Cake decorating shows are a bit misleading.
It's not easy, friends. That's why we, who are not going to spend two hours preparing fondant and buying ingredients we will only use once (despite repeated promises to do otherwise), must rely on cake hacks.
Cake hacks that gain an "ooh, wow" reaction with "pfft, yeah" levels of ease.
The Sprinkle Cake
Method: Cover a cake in buttercream icing, chill it for around ten minutes, then gently roll the sides in a tray filled with sprinkles before covering the top. It sounds difficult but a demonstration such as this one, shows how it is very much doable.
The alternative is to use a small spatula to slowly press the sprinkles into the side but this can prove frustratingly tricky.
Sprinkles can also be replaced for 100s and 1000s if you'd like a tightly-drawn rainbow effect.
The Fresh Fruit Jumble
Method: Bake a simple chocolate cake (chocolate is preferable for the contrast in colour),  pour a thick yet gooey icing over the top and then stack fresh fruit like strawberries or blueberries in a pile.
It helps to dip the fruit in chocolate before stacking in order to help them stick.
Messy Mud Cake
Method: Spread a chocolate buttercream icing thickly onto your cake with a spatula or butter knife. Try to replicate this kind of 'messy but measured' look with long and thick sweeps.
Cake Pizza
Method: Cover a cake in buttercream like the previous recipe and then, using a piping bag, divide the top into thick slice-like sections. Fill each section with the lollies of your choice.
If you don't have a piping bag because, let's be real, who has a piping bag, you can create one by pouring icing into a zip-lock bag before cutting a hole into the corner.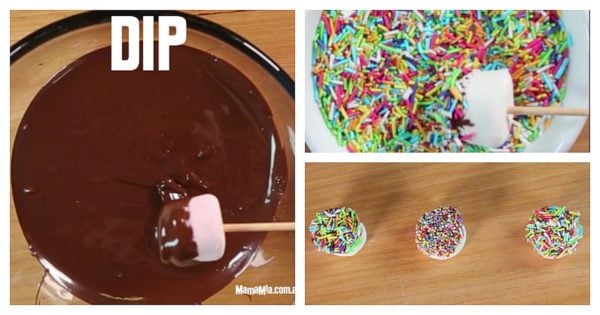 Chocolate-Dipped Marshmallows.
The video playing above demonstrates a simple way you can decorate marshmallows before placing them as little trees (using toothpicks) or shrubs atop your cake.
The marshmallows can be decorated using sprinkles or 100s and 1000s.
If you're looking for further inspiration, have a gander at these children's birthday cakes. We can't guarantee you'll be able to whip them out so easily.
First birthday cakes we can only dream of.