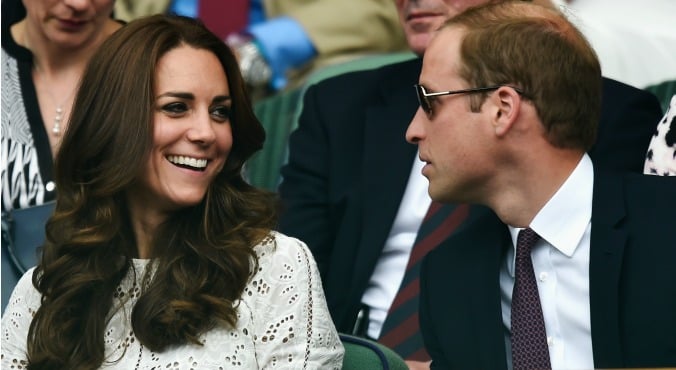 Image: Kate, William and Kate's perfect hair enjoy a day out at Wimbledon (Getty)
Say what you will about her life choices, wardrobe or status within the monarchy, but there's no point arguing the fact that Kate Middleton's hair is perfect. It's just completely, utterly, annoyingly perfect. No, really – it's even in the dictionary:
Perfect;  adjective;?p??f?kt/ : the Duchess of Cambridge's hair*
It doesn't matter what royal duty she's fulfilling, whether it's meeting dignitaries or cheering on her countrymen at Wimbledon, the Duchess of Shinylocks – um, Cambridge – always gives good hair. Even wrangling a floating hemline in one hand and a 9-month-old prince in the other while stepping off a plane here in Australia (and in heels, no less) was no match for those sleek, loose, cascading waves.
It's entirely possible The Duchess has struck a deal with some hair deity, guaranteeing eternally un-messable hair in exchange for something equally valuable (maybe naming rights for her second child). It's also possible she has a SWAT unit of stylists on hand, ready to attack at the first sign of a flyaway. As she's a member of the royal family, that's probably the most likely option.
Anyway, there's no use pondering the superhuman shine of Kate's curls – that time would be far better spent learning how to do them yourself. Yep – you don't need to marry a Prince and give up your day job to have nice, shiny, beautifully curled hair – although if you happen to meet a prince, don't let us discourage you.
15 times Kate Middleton's hair won at life
In order to achieve Kate-level hair perfection, commoners like us just need a bit of time, dexterity, the right styling tools, and a very straightforward tutorial to guide the process. Sydney stylist Anthony Nader of Raw Hair shares his tips on how to get her Wimbledon look.
Kate Middleton's Wimbledon hair in 5 steps
1. Blast dry freshly washed hair, then spray in a Heat Protector and Volume spray and comb through evenly with a wide tooth comb.
2. Divide hair into four equal sections.
3. Dry your hair from the nape area upwards in 2-3 inch sections with a medium size round brush.
4. Once the back is complete, then do the same starting from the ears up to your part line.
5. To get that beautiful full-bodied movement like in Kate's hair, grab a wide plate GHD and take diagonal sections starting from the front. Run hair through the plate in a slow twisting manner and flick out when you reach the ends.
6. Lightly brush the waves out to maximize the extra body, and spray with hairspray for extra hold.
HANDY TIP – When creating your waves, no need to press down tight on the plates as the lighter you press…….the softer the wave.
Need a visual? Here's the most-viewed video tutorial from YouTube – if you've seen any other great ones in your travels, let us know in the comments below! If you want to go full Duchess, there are also plenty of tutorials to help you copy her signature makeup.
* NB: dictionary definition may have been fabricated for the purposes of this story.
Mamamia is funding 100 girls in school, every day.
So just by spending time with Mamamia, you're helping educate girls, which is the best tool to lift them out of poverty.
Thanks for helping!