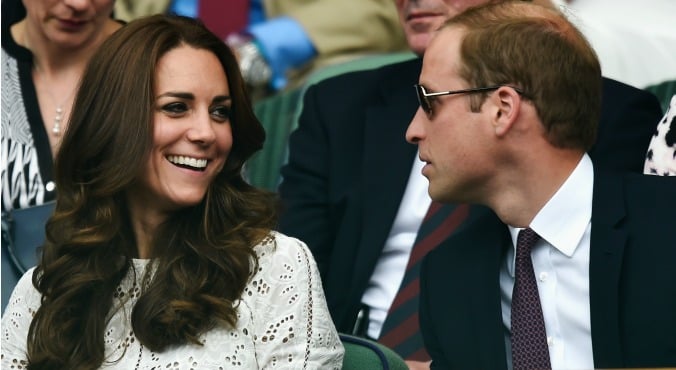 Image: Kate, William and Kate's perfect hair enjoy a day out at Wimbledon (Getty)
Say what you will about her life choices, wardrobe or status within the monarchy, but there's no point arguing the fact that Kate Middleton's hair is perfect. It's just completely, utterly, annoyingly perfect. No, really – it's even in the dictionary:
Perfect;  adjective;?p??f?kt/ : the Duchess of Cambridge's hair*
It doesn't matter what royal duty she's fulfilling, whether it's meeting dignitaries or cheering on her countrymen at Wimbledon, the Duchess of Shinylocks – um, Cambridge – always gives good hair. Even wrangling a floating hemline in one hand and a 9-month-old prince in the other while stepping off a plane here in Australia (and in heels, no less) was no match for those sleek, loose, cascading waves.
It's entirely possible The Duchess has struck a deal with some hair deity, guaranteeing eternally un-messable hair in exchange for something equally valuable (maybe naming rights for her second child). It's also possible she has a SWAT unit of stylists on hand, ready to attack at the first sign of a flyaway. As she's a member of the royal family, that's probably the most likely option.
Anyway, there's no use pondering the superhuman shine of Kate's curls – that time would be far better spent learning how to do them yourself. Yep – you don't need to marry a Prince and give up your day job to have nice, shiny, beautifully curled hair – although if you happen to meet a prince, don't let us discourage you.
15 times Kate Middleton's hair won at life