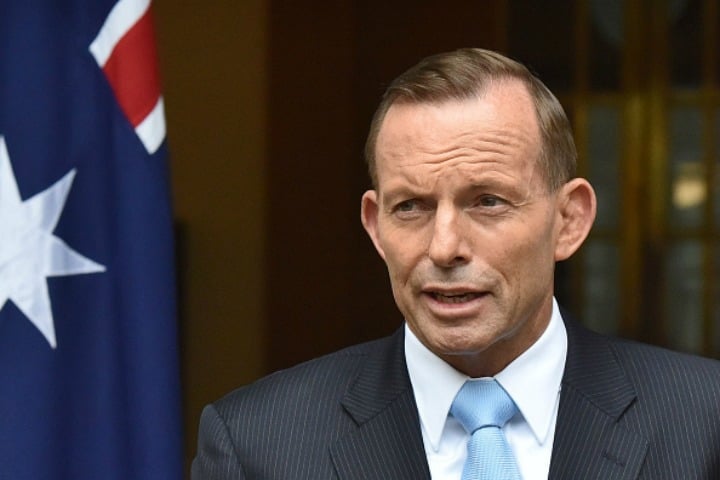 We've rounded up all the latest stories from Australia and around the world – so you don't have to go searching.

1. Prime Minister calls for a "national conversation" on what it is to be Australian.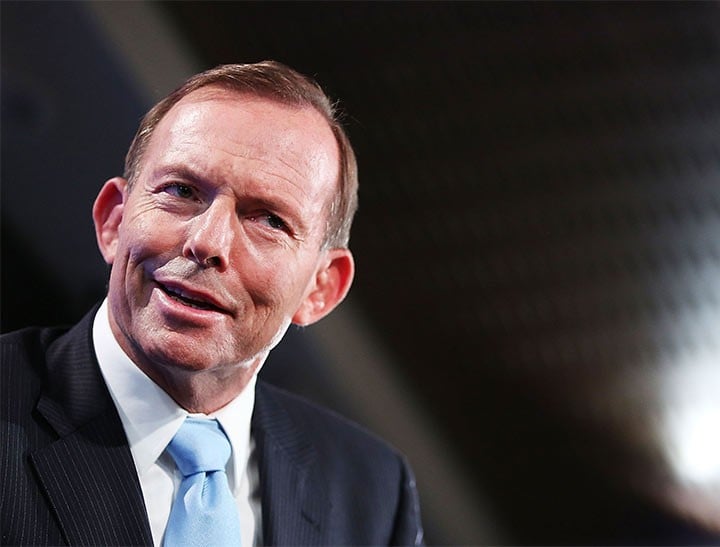 Prime Minister Tony Abbott has written an opinion piece regarding the government's push to strip dual nationals of their citizenship if they engage in terrorist activities.
He has called on the population to have a "national conversation about what it means to be an Australian".
In his piece for News Limited, Mr Abbott wrote that "a significant number" of the 260 people who are in the Middle East fighting with extremist organisations, including Islamic State, have dual citizenship.
He wrote: "It is reasonable to consider measures against those who betray the allegiance ­inherent in citizenship of our nation. I have announced that the government intends to update the Australian ­Citizenship Act so dual ­nationals who engage in terrorism can be stripped of their citizenship.
"Since 1949, Australians with dual citizenship who fight for a country at war with Australia have forfeited their citizenship.
"There should be no difference in how we treat Australians who join a hostile army and those engaged in terrorism — both are betraying our country and don't deserve our citizenship.
"Our security agencies are currently managing more than 400 high priority counterterrorism investigations."
He concludes that we need to have a conversation about what it means to be Australian.

2.  Bill Shorten to introduce same-sex marriage bill.
The Leader of the Opposition, Bill Shorten, will introduce a private member's bill on Monday to change the Marriage Act and allow same-sex marriage.
"I believe the time has well and truly come for the Parliament to debate marriage equality," Mr Shorten said.
"Our current law excludes some individuals — and to me, that is unacceptable.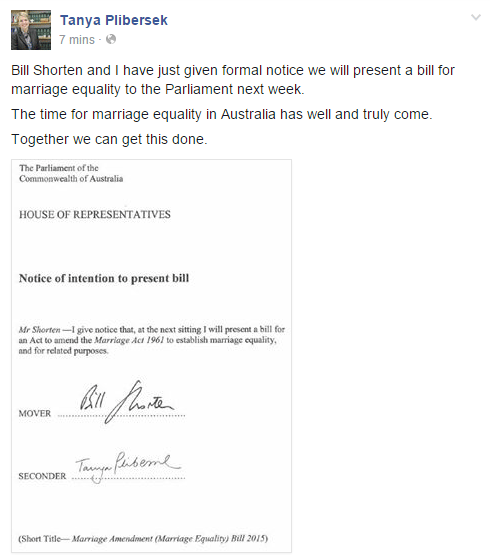 "It says to them: your relationships are not equally valued by the state, your love is less equal under the law."
For more read this post here.

3. Family of IS fighter wants to return to Australia.
Fairfax Media reports the family of Australian Islamic State fighter Khaled Sharrouf are trying to return to Australia.
Tara Nettleton, who is said to have helped move her children to Syria in the first place, is reportedly liaising with her mother in an attempt to return to Australia.
One of Khaled Sharrouf's sons was notoriously paraded on social media holding up a severed head.
Sharrouf has three young boys and two teenage daughters.
Yesterday, the Federal Cabinet agreed to pass laws that could strip dual citizens of their Australian citizenship if they are suspected of terrorism.
Nettleton may face prosecution if she returns to Australia.

4. Sydney Siege inquest hears Monis wanted to commit suicide.
A lawyer who had been representing Man Haron Monis before he entered the Lindt Café and took 17 people hostage told the inquest into the siege yesterday that Monis wanted to commit suicide.
"His world was collapsing around him,"
"Maybe he went to the Lindt cafe that day to commit suicide because there was no escape for him." solicitor Franklin Arguedas told the siege inquest in a statement yesterday.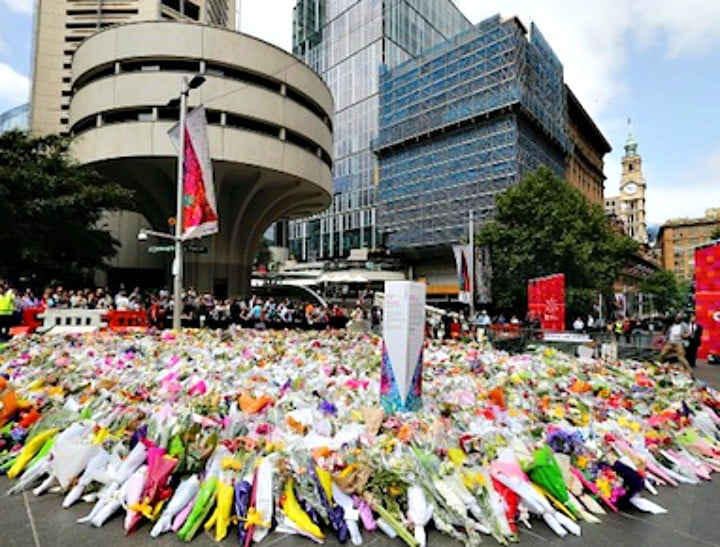 "He had murder and sexual assault charges pending against him at this time and this may have contributed to it,"
The inquest has heard that Monis was on bail on a charge of being an accessory after the fact to the murder of his wife, Noleen Pal.
He had also been charged with 43 counts of sexual assault relating to women who had been clients of his clairvoyancy and "spiritual healing" business.

5. Dead boy on swing and his mother identified.
A US mother who pushed her dead son on a swing for up to a day has been identified in the US media with her mother speaking out.
The young boy identified as three-year old Ji'Aire Lee and his mother 24-year old Romechia Simms.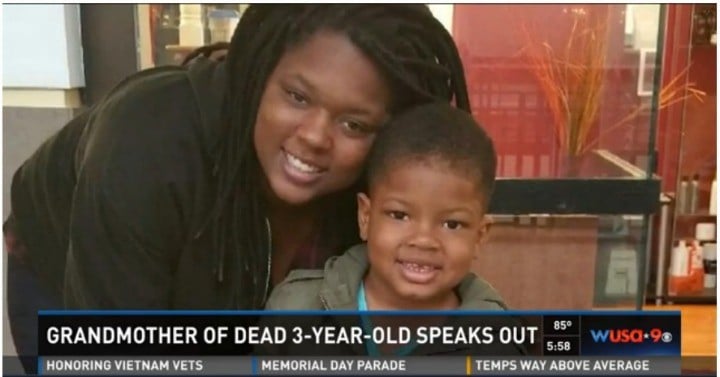 Romechia Simms's mother, Vontasha told WUSA9 that she belived her daughter had a breakdown, and that her daughter would never have done anything intentionally to harm her child.
Police say there were no obvious signs of trauma on the boy's body. New York Daily News reports that an autopsy has been done on the little boy but the cause of death remains under investigation.
Vontasha Simms told television station WUSA9 that her daughter had no permanent place to live and had been staying at a nearby hotel.
There are reports that the family had been in the midst of a custody battle over the young boy.
If you need help please phone Lifeline 13 11 14.

6. States looking set to back Treasurer in tampon tax axing.
The States look like they will back the Treasurer, Joe Hockey in support for axing the tax on women's sanitary products despite the Prime Minister, Tony Abbott saying it was not something the government has a plan to do.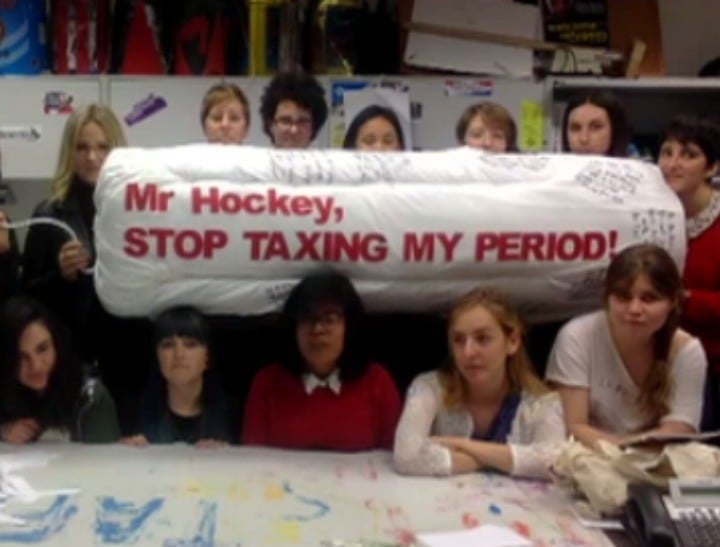 Victorian Treasurer Tim Pallas along with his counterparts in South Australia, NT, the ACT, and QLD Deputy premier Jackie Trad have all backed the move reports The Age.
New South Wales Treasurer Gladys Berejiklian said that NSW "looks forward" to the states having broad discussion about the GST and tax reform in July.
For exactly how much you would save if the "tampon tax" was abolished read this post here.
7. Radio host kills baby rabbit live on air.
A Danish radio station is facing worldwide horror after a presenter killed a baby rabbit during a live show in what the station's owners say was an attempt to raise awareness of "the hypocrisy of animal welfare".
Radio24syv presenter Asger Juhl, aged 34, was hosting a debate on animal welfare when he bludgeoned nine-week-old baby rabbit called Allan with a bicycle pump.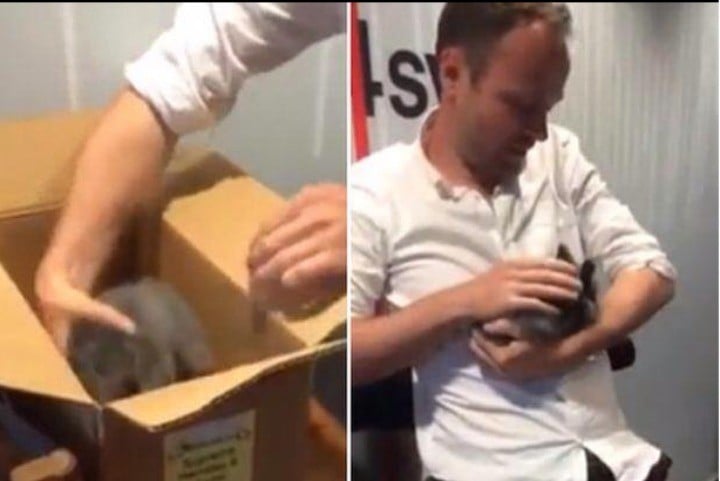 The radio station say he killed the bunny to demonstrate the hypocrisy of animal rights campaigners who eat meat from supermarkets.
The rabbit reportedly twitched several times before quietly dying.
Juhl later took the rabbit's body home and skinned it, saying he planned a dinner of rabbit ragoût for his children.
A statement from the radio station read: "We ensured that we killed the rabbit in a sound manner, in accordance with very precise instructions that were given to us by a zookeeper– so the rabbit did not suffer any harm."
"It is not our wish to offend anyone with this debate. And we regret that many people have misunderstood our message," the station added. "But we hope that this heated debate creates better conditions for animals in Danish agriculture."
For more read this post here.

8. Adrian Bayley in court today.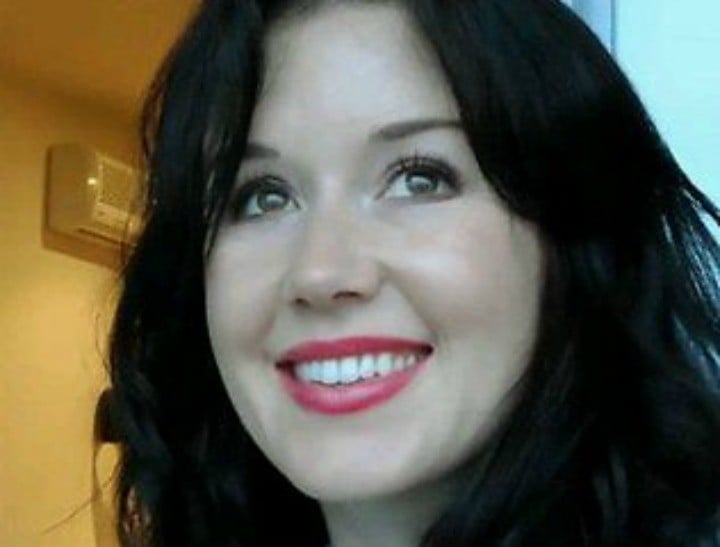 The rapist and killer of Jill Meagher is due to appear in a Melbourne court today over attacks on three other women.
Bayley is serving a 35-year minimum sentence for the rape and murder of Ms Meagher in a Brunswick laneway in September 2012.
In March this year he was found guilty of raping three more women in St Kilda, including two victims just months before he attacked Ms Meagher.
Jill's husband Tom Meagher will front the County Court of Victoria today for a plea hearing.
9. Salvation Army report shows many live on just $18 a day.
A report, released today by the Salvation Army, has shown that many Australians survive on an average of less than $18 a day.
The Salvos' fourth annual National Economic and Social Impact Survey of more than 2400 people who have used its services found their average weekly income was $305.
The report reveals that on average respondents paid $180 per week on accommodation expenses and then had just $125 to live on – that's only $17.86 per day.
Newstart allowance respondents had the least amount of money to live on after expenses were paid – approximately $27 – $50 less per week.
Dr Bruce Redman said "this survey provides a snapshot of the people needing help from The Salvation Army and it's a great concern that the most vulnerable people in our community are continuing to struggle in dire economic circumstances."
10. Mick Malthouse will not seek another coaching post.
Sacked Carlton coast Mick Malthouse has confirmed his senior coaching career is over.
The Blues announced their decision to sever ties with Malthouse following his an interview on radio yesterday where he slammed the board and chief executive Steven Trigg.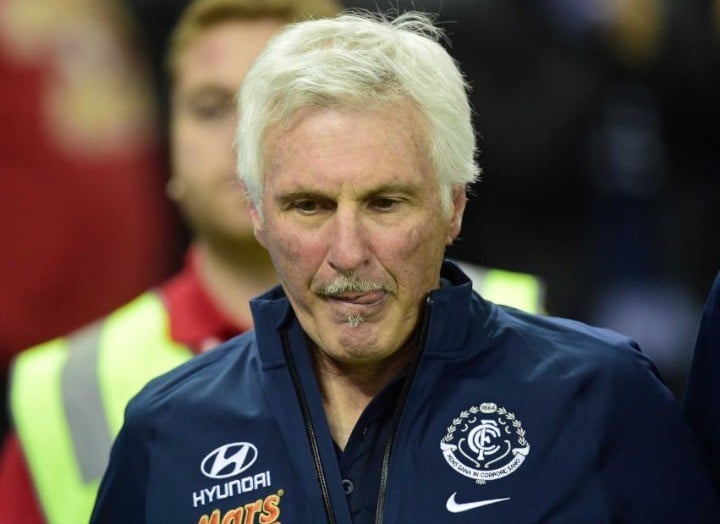 Malthouse released a statement via the AFL last night saying would not seek a senior coaching position elsewhere.
"It has been a varied career which has taken me the breadth of this great country and I believe the game, and I, have matured greatly during the past decades," Malthouse said.
"This concludes my coaching journey but I will enjoy viewing the game from afar and its progress."
"I bear no grudges and I have no regrets," he said.
"I have achieved some amazing football highs with some wonderful people and endured tough times with great support.

11. Most powerful women in the world.
Forbes has released its list of the world's most powerful women and German Chancellor Angela Merkel has topped list for a fifth year.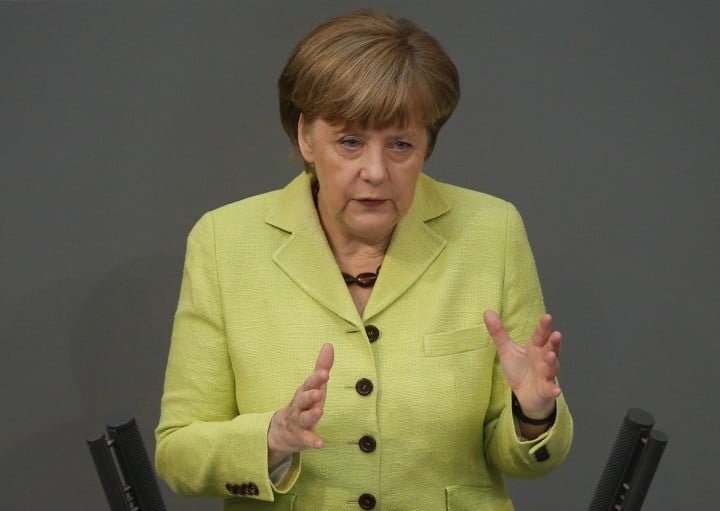 Second is Hillary Clinton and then Melinda Gates, who co-chairs the Bill and Melinda Gates Foundation US federal Reserve Chair Janet Yellen and General Motors CEO Mary Barra round out the top five.
Then came IMF chief Christine Lagarde, Brazilian President Dilma Rousseff was seventh. Facebook COO Sheryl Sandberg (No 8), Susan Wojcicki, CEO of YouTube (No 9) and US First Lady Michelle Obama.
And at number 64, 25-year old Taylor Swift has become the youngest person ever to make the list.
Do you have a story to share with Mamamia? Email us [email protected]
[post_snippet id=324408]