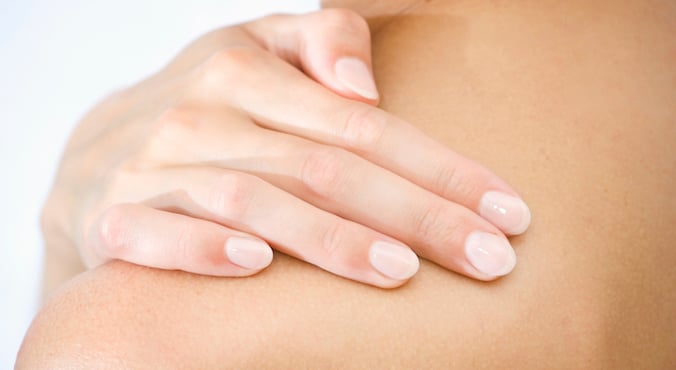 Image via iStock.
Dry and dehydrated skin might be known winter afflictions – but it turns out there's a whole lot we don't know about them.
First up, that those with breakout-prone skin can suffer from dehydrated skin too.
So if your face is feeling tight, sensitive and as grumpy as you are about the changing seasons, you need to read this…
Related: 5 face oils that will make your skin look and feel amazing.
1. Science recap: What is dry skin?
Dry skin (or alipidic, if you want to impress your facialist) doesn't produce oil. Oil's job is to hold skin's moisture in – think of it like the zip on your suitcase – so without it, moisture evaporates. Dry skin is largely genetic; sufferers consistently have skin that is tight, rough and flaky.
2. That's different to dehydrated skin how, exactly?
Two things. Firstly, dry skin lacks oil, whereas dehydrated skin lacks water (but still produces oil just fine, which is why you can suffer from acne and still be dehydrated). Secondly, dry skin is a skin type – and therefore permanent (much like a blood group, say) – while dehydration is a temporary skin condition.
 Related: What happens when a man tries skincare products for the first time.
Dehydration is caused by external factors: weather changes (we hear you), harsh products, chlorine, alcohol, not drinking enough water, long soaks in a too-hot bathtub… anything that damages your skin's armour-like ability to stop water evaporating too quickly.
3. Am I likely to be at risk of dehydrated skin?
Afraid so.
"I'm seeing dehydration more and more: people working longer hours in offices, dashing in and out between hot and cold temperatures – you do pay a price," explains Patty Foustellis, consultant for dermo-cosmetic skincare brand, Avene.
Related: Noticed your skin's been oily lately? This could be the culprit.
"Our skin is 70 per cent water, with around 25 per cent of that in the epidermis (or top layer). But when I analyse skin, I frequently see people with only around 7-8 per cent hydration."
To check which one you're most likely to be affected by, see which of these symptom checklists you most align with:
DRY SKIN:
Dry skin is a skin type and it is permanent.
The symptoms:
- Skin lacks oil and shine, and is dull
- Tingling sensation after cleansing
- Skin feels tight
- Dry patches or redness
- More sensitive to first signs of ageing (first lines of expression)
- Makeup generally stays on much longer than those with oily skin