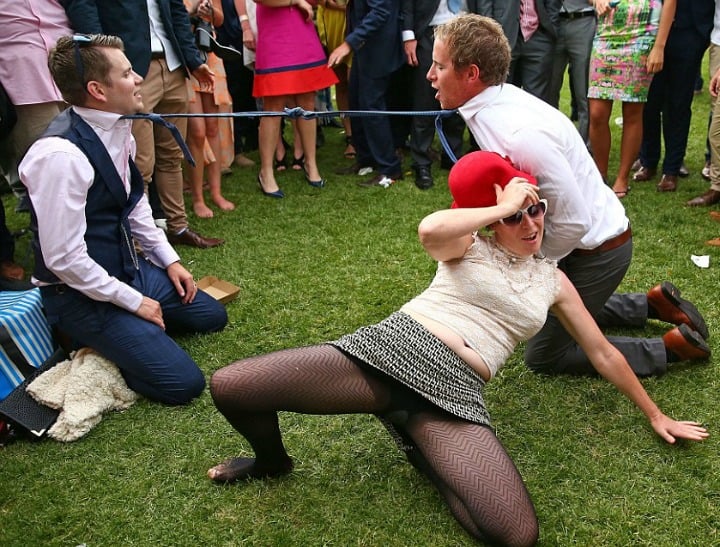 I'm going to forget for one moment that there is something unsettling and dystopian about the Melbourne Cup. Glammed up celebs and society people safe in exclusive "Birdcages", old money picnicking in the private carpark next to dressed-up drunk people in general admissions, next to Red Cadeaux jockey, Gerald Mosse, crying into his hands on the track, his injured horse behind a big, green tarpauline on the track.
Stratified bacchanalia next to pain. It was all a bit The Hunger Games.
Like Debrief Daily on Facebook. 
Instead, I'm going to concentrate on the other big ticket issue stemming from the race that stops a nation. How much public drunkenness is too much? Is too much the woman in the neat, electric blue frock waking up this morning to see herself on national TV pushing over a police officer (she's now been charged with assaulting a police officer)?
Or the drunk guy in those gallery of Melbourne Cup photographs bloodied from being in a fight?
Then there's the guy in a suit vomiting. The couple passed out on each other across a pile of rubbish. The dirty feet, sloppy pashes and blokes who think they are the first man, ever, to wear a fascinator. The hordes of generally drunk people doing drunk stuff.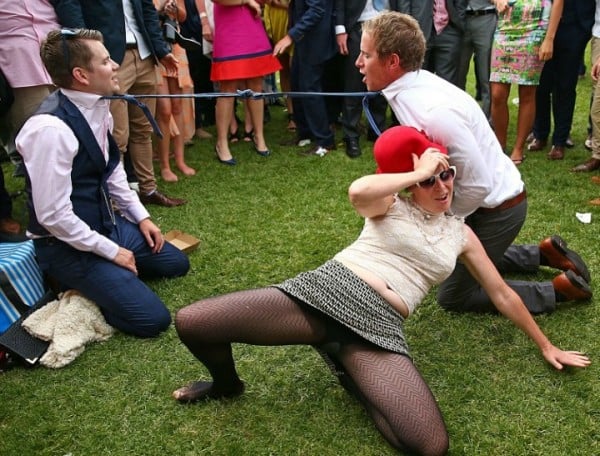 I have to admit that I spent more time scrolling through the images of drunk people on Cup day than I did looking at anything to do with the race.
This was the most time I had ever invested in the Melbourne Cup. By the end of the day drunk punters were rolling around in lost single shoes, empty contraception pill packets, thousands of smashed plastic cups, empty bottles and piles of general rubbish.
People have commented that general admissions at Flemington lacked class.
But the classy people in the Birdcage were getting drunk too, there's just less photographic evidence. Well, there is the short video of a woman walking out of the Birdcage falling into a bush. I watched it again because I could. Then I had a crisis of betraying the sisterhood and I tried to look more at pictures of men being idiots. Then I decided to be an equal opportunity drunk person watcher. There were a lot of drunk people to watch.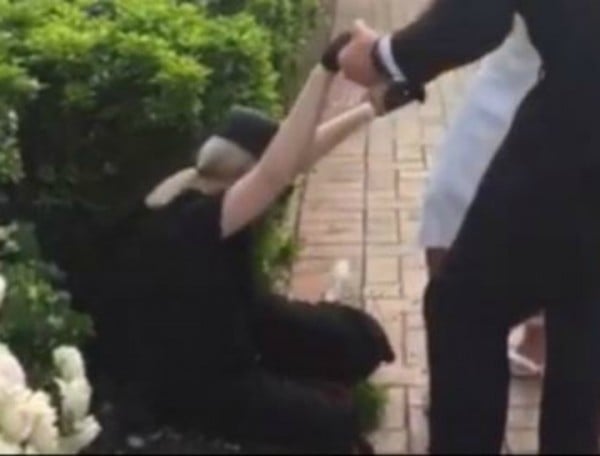 The day really is set up for getting, well, smashed. Melburnians have a public holiday for the race. Dressed up, excited crowds began filing through the gates at 10am. They started drinking at 10am. That's around five solid hours of drinking by Melbourne Cup race time. In terms of a Friday night out the Melbourne Cup race is happening at around 1.30am in the morning. If you are still out at 1.30am in the morning, what state are you in?
This morning, as the day broke and garbage bins were collected on suburban streets and life went back to normal, how did people caught so publicly at their most uninhibited and messy handle waking up to see a photograph of themselves rolling on the ground having a pash? What did they say to their colleagues, their families, their MOTHER?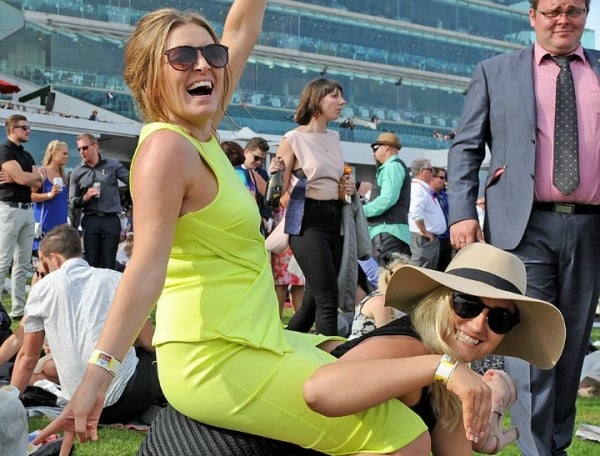 On a day when people walked out their door looking their very best, they ended up looking their very worst - or just riding a girlfriend as though she is a horse.
Being drunk at The Melbourne Cup is so much part of the experience, there are Facebook pages devoted to documenting it and, unsurprisingly, it is Victoria's most notorious event associated with acute alcohol intoxication, assaults and accidents (according to a 2012 Vic Health report).
A lot of us at one time or another have "overindulged" and embarrassed ourselves (okay, me), but the whole of Australia wasn't watching. The Melbourne Cup documented forensically what inebriated excess looks like (just like the TV program Geordie Shore), and as well as being a little funny, it was a little sad too.
Because that's what being really drunk looks like. It doesn't look at all what you imagined back when you were lucky enough not to have photographic evidence the next morning.
It's definitely sobered me up.