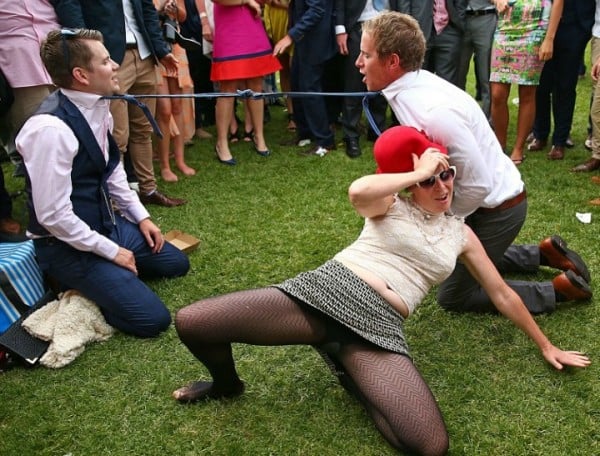 I'm going to forget for one moment that there is something unsettling and dystopian about the Melbourne Cup. Glammed up celebs and society people safe in exclusive "Birdcages", old money picnicking in the private carpark next to dressed-up drunk people in general admissions, next to Red Cadeaux jockey, Gerald Mosse, crying into his hands on the track, his injured horse behind a big, green tarpauline on the track.
Stratified bacchanalia next to pain. It was all a bit The Hunger Games.
Like Debrief Daily on Facebook. 
Instead, I'm going to concentrate on the other big ticket issue stemming from the race that stops a nation. How much public drunkenness is too much? Is too much the woman in the neat, electric blue frock waking up this morning to see herself on national TV pushing over a police officer (she's now been charged with assaulting a police officer)?
Or the drunk guy in those gallery of Melbourne Cup photographs bloodied from being in a fight?
Then there's the guy in a suit vomiting. The couple passed out on each other across a pile of rubbish. The dirty feet, sloppy pashes and blokes who think they are the first man, ever, to wear a fascinator. The hordes of generally drunk people doing drunk stuff.