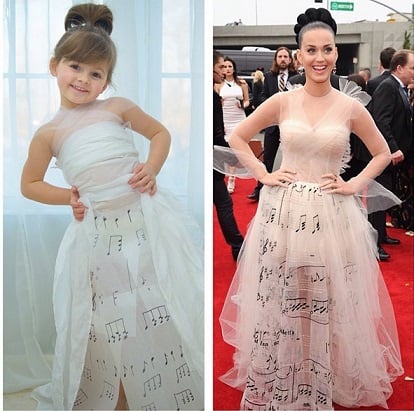 Yes, painted macaroni necklaces are beautiful – but this 4-year-old's fashion creations blow them out of the water.
Almost daily, 4-year-old daughter 'Mayhem' (that's her nickname, not her real name) and her mum Angie have been creating replicas of red carpet gowns using paper, foil, tissue paper, tape and a whole lot of imagination.
And the results? AWESOME. Angie and Mayhem have recreated, in great detail, famous dresses worn by the likes of Jennifer Lawrence, Katy Perry and Lupita Nyong'o, as well as fictional characters like Snow White and Ana from Frozen. They split the work 50/50.
"Mayhem constructs a lot more than most people would probably believe," Angie tells the blog Mommy Shorts. "That's one of the best things about this project, I see her learning news skills."
While Angie obviously helps with the more complicated designs, Mayhem's solo creations also hint at a flair for fashion.
Check out this gallery of shots from Angie's Instagram profile (@2sisters_angie) – you'll be reaching for the scissors and a ream of scrap paper in seconds.