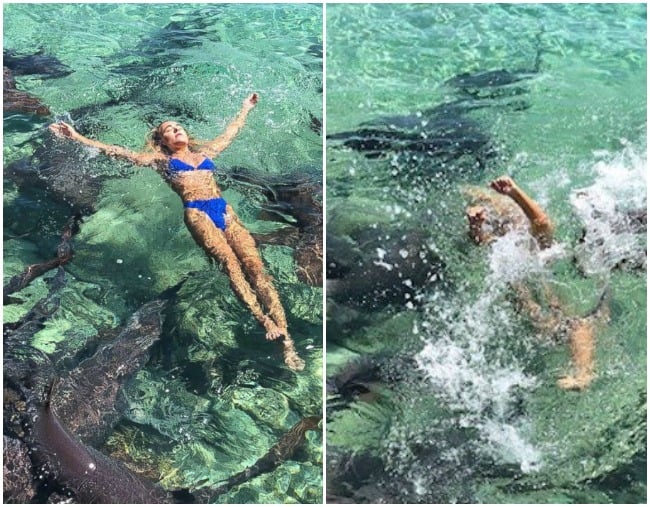 – With AAP
1. The moment an Instagram model was bitten by a shark while posing for a photo.
An Instagram model has been bitten by a nurse shark while posing for photographs in the Bahamas.
Katarina Zarutskie, 19, was on holiday with her boyfriend's family last month when she came across a pool in which a number of tourists were swimming with the creatures. She joined them in the hope of snapping a photograph for her 13,000 followers.
"I leaned back, and then that shark he came and he bit down on my arm and pulled me under," she told Buzzfeed News.
The University of Miami student said she remained calm and managed to pull her arm free of the shark's jaw, and make her way safely out of the water.
Zarutskie was treated with multiple antibiotics to ward of an bacteria the animal may have carried. She's also been left with scarring, but says she is simply happy she wasn't more badly injured.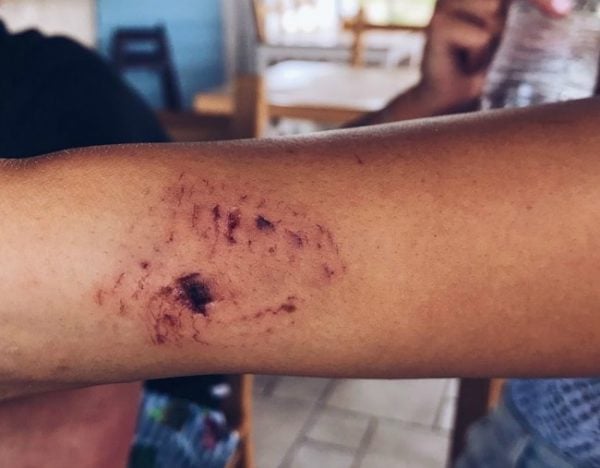 Swimming with nurse sharks is a common activity in the Bahamas, and even promoted by the Caribbean country's tourism website. Still, when the model posted about the incident on Monday, she received backlash from some commenters who argued she was at fault for the attack.
Zarutskie says she "love[s] sharks" but concedes the experience has been a big lesson for her.
"They are wild animals and it's an uncontrollable situation," she told BuzzFeed.
"I would recommend people to [swim with nurse sharks], but be smart about it," she said. "You are in their home."
Just last month, a Perth woman was dragged into the water and attacked by nurse sharks in northern WA.
2. Australian diver Dr Richard Harris share details of soccer team's rescue from Thai cave.
Dr Richard Harris has been labelled 'the best' for his work in rescuing the trapped boys. #9News https://t.co/7WgB6D5vuU

— Nine News Melbourne (@9NewsMelb) July 11, 2018
The Australian doctor who helped rescue 12 boys and their soccer coach from a flooded Thai cave has downplayed his key role, saying the "big heroes" were the children themselves and the Thai navy divers who looked after them.
Anaesthetist and expert diver Dr Richard Harris was part of an Australian contingent assisting in the dramatic rescue of the boys from the cave near Chiang Rai in northern Thailand.
After the last boys and the coach were brought out by a chain of divers on Tuesday night, Dr Harris told Prime Minister Malcolm Turnbull via Facetime that the morale of the boys was crucial to their successful rescue.
"They are the toughest blokes and kids I've ever had the privilege to meet," he said.
"They are the ones who were responsible for their own morale and really their own safety and without them being in the state they were in we couldn't have done anything."
Dr Harris' key role in the rescue effort involved assessing the boys' health on Saturday and ruling them well enough to be dived out of the cave.
Mr Turnbull asked Dr Harris what the hardest part of the cave rescue was.
"The last couple of hundred metres underwater is very difficult to find your way through. For the entire dive at the back of the cave there's zero visibility because of mud and clay," Dr Harris said.
"So you're following the guide line with your hand and you basically might as well have your eyes closed with a small boy being cradled in your arms and feeling your way through rocks and pushing yourself sideways through little holes."
Six Australian Federal Police divers, one military, and Dr Harris, supported by a friend from Perth, Craig Challen, were in the rescue effort along with American, British, European and Chinese dive rescue and medical experts.
Three of the Australian divers told how the soccer team members were passed "hand to hand" on "sked" stretchers between divers to get them out.
They estimated the boys may have passed through 150 pairs of hands in chamber three, after two divers accompanied each of them out of two inner chambers.
Another of the divers said dozens of rescue workers in the cave around 10pm on Tuesday had to flee when pumps holding back water failed, allowing a surge of water just as the last group of Thai navy SEALs was exiting.
He said a roar like a "Mexican wave" echoed along the chamber when the final navy SEAL emerged.
AFP commander Glen McEwen said the biggest challenge for the Australian divers was moving 20 tonnes of industrial-sized pumps, oxygen, medical supplies and food into the labyrinth.
"It's probably the most monumental and inspirational effort they've ever been a part of," he said.
The "Wild Boars" team members are recovering in a Chiang Rai hospital.
Joy over the rescue was marred by news on Wednesday that his father had died in Adelaide shortly after the rescue was completed.
3. "It's disappointing." Roger Federer makes a shock exit from Wimbledon.
Federer's quest for a ninth title at The All England Club came to a dramatic end with just his fifth defeat from two sets up in an unparalleled 20-year, 1415-match career.
The 20-times grand slam champion blew a third-set match point before succumbing 2-6 6-7 (5-7) 7-5 6-4 13-11 to big-serving South African Kevin Anderson in a four-hour, 14-minute quarter-final thriller on Tuesday.
The great Swiss was philosophical in defeat, offering no excuses, just dejection and a few minor regrets.
"I had my chances so it's disappointing, but he was consistent and solid. He got what he needed it when he needed it. Credit to him for hanging around really that long," Federer said.
Federer ultimately paid the price for failing to convert any more than three of 12 break-point opportunities, including three in a row with Anderson serving at love-40 in the fourth set.
But, turning 37 in less than a month, Federer refused to blame fatigue after giving up a two-set advantage for the first time since doing so seven years ago against Jo-Wilfried Tsonga and Novak Djokovic at consecutive slams at Wimbledon and the US Open.
"I felt good actually," Federer said. "Sure, it's disappointing losing the next two sets after winning the first two and having match points. I've been there before. I know what kind of energy I need to bring to the fifth. I was able to bring that.
"To be honest, I didn't feel mental fatigue. Now I feel horribly fatigued and just awful. It's just terrible. But that's how it goes."
Federer also refused to blame the unfamiliar surrounds of Court One, despite never looking entirely comfortable on it.
With Thursday's other two quarter-finals between world No.1 Rafael Nadal and Juan Martin del Potro and three-time champion Djokovic against Kei Nishikori given star billing, the titleholder was shunted off Wimbledon's Centre Court for the first time in three years - and 21 matches.
"It's just not one of my best days," he said.
"It's one of those average days you have to try to win the match, and I just couldn't get it done."
Father-of-four Federer hopes to be back for a 21st straight shot at the title in 2019.
The only other times he has surrendered a two-set lead came against Lleyton Hewitt in Switzerland's 2003 Davis Cup semi-final loss to Australia in Melbourne, to David Nalbandian in the 2005 Masters Cup decider.
4. Billy Slater gets emotional send-off after Queensland's State of Origin win.
Queensland have provided one final highlight for Billy Slater, downing NSW 18-12 in State of Origin III in Brisbane to provide a fitting farewell and deny the Blues their first series whitewash in 18 years.
While it was an emotional send-off for stand-in skipper Slater in his 31st and final Origin, it marked a happy return for Maroons halfback Daly Cherry-Evans in front of a 51,214-strong crowd.
The polarising playmaker finally won over the Maroons faithful with a masterful display in his first Origin in three years.
NSW looked like they would be party poopers when they somehow snatched a 12-8 half-time lead despite having five-eighth James Maloney in the sin bin and little possession.
And man of the moment Slater had been denied a try not once but twice.
Yet the Maroons dug deep to recapture the never say die attitude that had propelled them to 11 series wins in the last 12 years to finally break their 2018 duck.
Slater was named not only man of the match but Wally Lewis Medallist for player of the series, despite missing the opening game with a hamstring injury.
"I love playing for Queensland. I have had the privilege to do it 31 times. To lead them out first (as captain), it was a special moment," Slater said.
"But we needed that win tonight for Queensland's future."
With Queensland enjoying 70 per cent possession, NSW defied being a man down by scoring twice in three minutes through Tom Trbojevic (37th) and James Tedesco (40th).
"I feel pretty awful but that's what you expect. They were pretty brave with what against them," NSW coach Brad Fittler said.
"I was really proud of them (but) to win 3-0 you have to do some special things, have to overcome adversity."
5. Buckingham Palace confirms Donald Trump's visit to the Queen.
Queen Elizabeth II will welcome President Trump and his wife Melania at Windsor Castle where they will watch a military parade before having tea on Friday, Buckingham Palace says: https://t.co/WEbf2YRxkD pic.twitter.com/hjQmfM079y

— CBS News (@CBSNews) July 11, 2018

Buckingham Palace has confirmed that the Queen will meet US President Donald Trump and First Lady Melania Trump at Windsor Castle on Friday.
A guard of honour will give a royal salute and the US national anthem will be played.
The Queen and Trump will inspect the guard of honour before watching the military march past.
The president and first lady will then join the Queen for tea at the castle.