Dr Pimple Popper (aka Dr Sandra Lee) is back at it again. Each time she releases a video, we think we've seen it all when it comes to popping and squeezing pimples. And each time she surprises us.
In her new video, she's tackling a cyst nicknamed 'Larry' that's been developing behind the ear of a young man for 10 years.
TEN YEARS, PEOPLE.
Feeling the rubbery texture, Dr Lee identifies the bump as a superficial cyst, and immediately gets to work with a pair of tweezers and small scissors.
She makes a hole in the cyst to prevent it coming back, then focuses on getting the offender.
"If I don't remove the entire sack of fluid, then it will just come back. It's like a worm that just regenerates," she says.
(Dr Lee at work. Post continues after gallery.)
After puncturing the top, it's time to squeeze, which unleashes a whole load of cottage cheese-looking bits of flaked skin.
(Oh, sorry — you weren't eating, were you?)
While Dr Lee snips and cuts away, the unnamed patient is surprisingly calm and quiet.
"He's not super nervous, he's not going to freak out on me, is he?" Dr Lee asks.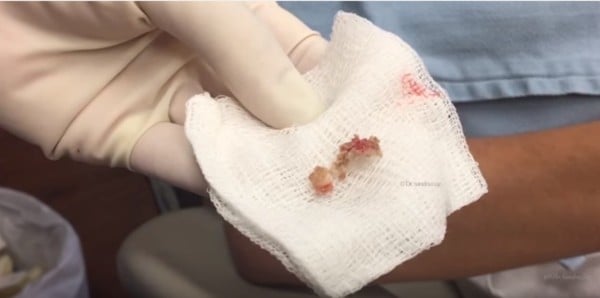 Bye bye Larry. Image: Youtube/Dr Pimple Popper
Luckily that doesn't happen and he is carefully stitched up, leaving the clinic happy as Larry — and happily Larry-less.
See the full video here.
Image: Youtube/Dr Pimple Popper
Are you a pimple popping video lover or hater?