Dr Philip McGraw shot to fame after appearing on The Oprah Winfrey Show two decades ago. Today, he is best known for his broad Southern accent and tough love approach to guests seeking help on his hit TV show.
But behind the Dr Phil camera lens, several people have accused McGraw of mistreating his guests. Some, who were struggling with alcohol and drug addiction, say they were given access to those substances.
McGraw has so far declined to comment on the troubling allegations, which were reported in a joint STAT/Boston Globe investigation. However one senior staff member Martin Greenberg denied guests were ever helped scoring alcohol or drugs.
Here, we break down the story of each accuser.
Todd Herzog
Former Survivor winner Todd Herzog, who had an alcohol addiction, said he was "set up" when he appeared on the show in 2013.
The told STAT he had arrived in LA and detoxed in his hotel room over the two days before the show's taping.  He claims he was sober when he walked into his dressing room ahead of the show, where he found a bottle of vodka.
Proceeding to drink the vodka, Herzog claims he was also given Xanax to "relax". The result of the potentially deadly combination of prescription drugs and alcohol was that he had to be carried on set.
At the time, McGraw told viewers: "I've never talked to a guest who was closer to death."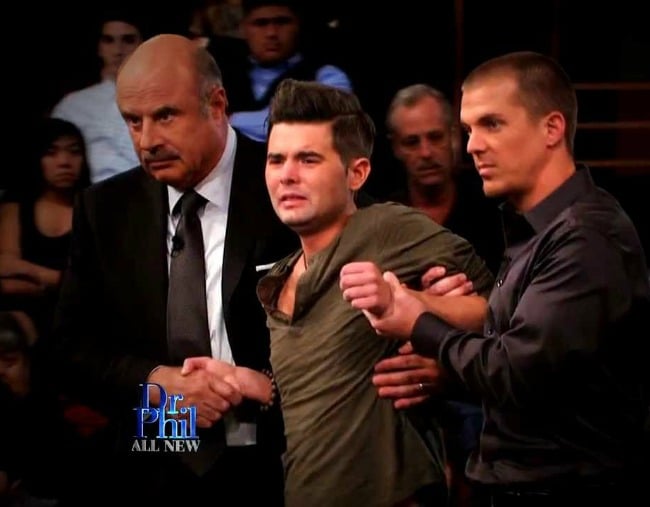 Reflecting Herzog said, "You know, I get that it's a television show and that they want to show the pain that I'm in."
"However, what would have happened if I died there? You know, that's horrifying."
At least for Herzog, he eventually got well, telling STAT he was sober, working, dating and had reconnected with friends and family.
"I'm so much happier now," he said. "I'm living again."