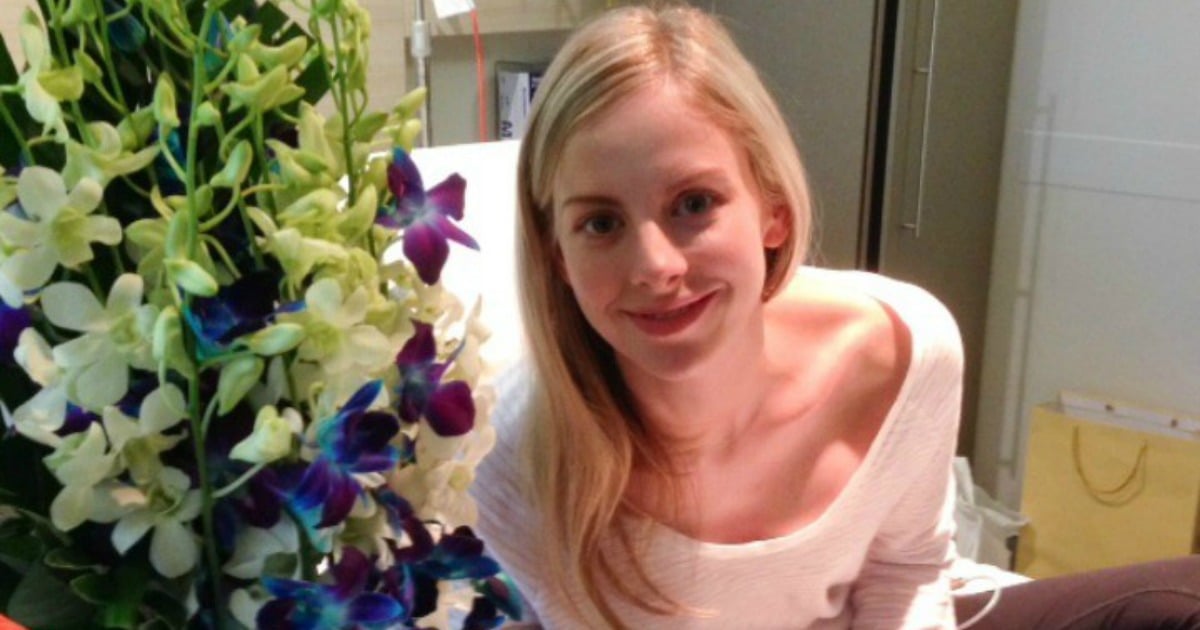 I have recently moved to Sydney's northern beaches, so I have been keenly awaiting the arrival of warm weather so I could indulge in the coastal delights of my new home.
As the sun came out over the weekend, I found a quiet spot on the northern end of Freshwater Beach. I set my towel down near the ocean pool.
I shrugged off the baggy jumper I wore to cover my chest despite the heat.
I can't lie on my stomach, so I lay down on my back and hoped no-one would notice my breasts pointing awkwardly skyward.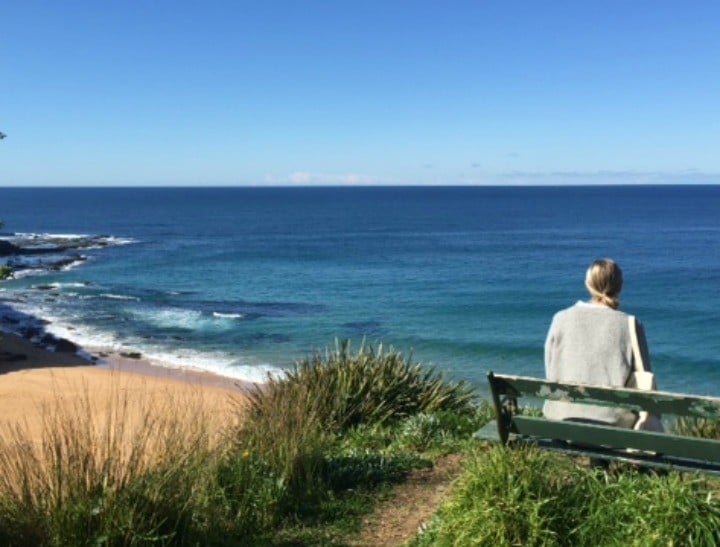 I began to settle into the sand, breathe in the fresh, salted air, and forgot about my worries. I enjoyed about ten blissful minutes before my bubble was burst.
A young woman walked past and pointed out my "bad boob job" to her friend. I imagine she thought she was using a hushed tone.
I froze. My face and throat burned. I stood up quickly, grabbed my towel, and walked home running through a mental checklist of all the reasons I am still worthwhile.
In July this year, I had a double mastectomy to reduce risk of breast cancer. My risk was unacceptably high because I am positive for the BRCA1 genetic mutation.
After being released from hospital following surgery and painful recovery, my boyfriend stopped at the beach before taking me home. I remember feeling instantly soothed and rejuvenated by the quiet lull of the waves and the gentle winter sun on my face. It was a world away from the constant noise and neon light of the ward.
Now I'll have to pull myself together (again) to go back there.
Many people aren't aware of the long and complicated process that a mastectomy and reconstruction entails. It doesn't happen in one long procedure.
Some women choose not to reconstruct. For those that do, there are several ways it can happen.
For me, I have had surgery to remove all my breast tissue, my nipples, and some lymph nodes.
I woke up with expanders fitted under the skin where my breasts had been and four drains, collecting blood and lymphatic fluid from the surgical site, attached to my body.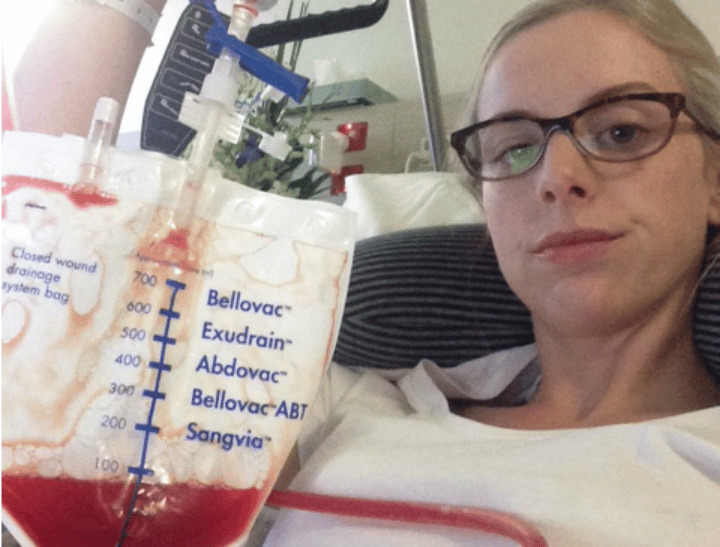 I left hospital a week after surgery with three drains still attached.
For the next two weeks, community nurses came to my home to help me look after the drains and ensure I was doing my physiotherapy routine, which would help to prevent loss in the range of movement of my arms.
Every week for about a month after my surgery, I fronted up to my surgeon's office to receive an injection of fluid into the expanders, which gradually and painfully, stretch the skin that had been sewn tightly over my flat chest.
These hard, immoveable, and uncomfortable sacks of fluid have to be in place for at least three months at full size before I can undergo further surgery to swap them for softer, more comfortable implants that have a better aesthetic result.
Later, I'll think about more surgery to reconstruct my nipples, using my own skin and pink tattooing.
My experience at the beach is probably among the greatest fears for any woman who bravely gets on with her life while she's still 'under construction'.
The woman who pointed out my "bad boob job" wasn't trying to hurt me as much as she did. She just wasn't thinking.
It probably hadn't crossed her mind that I might have recently undergone pretty drastic surgery in a bid to prolong my life. Surgery that means I am acutely self-conscious. Surgery that means just being at the beach in my cossie was a huge deal.
Listen to Amanda's No Filter interview here:
And that's why as much as writing this pains me, I am. There is a part of me that would prefer to hide and pretend that what happened at the beach on Saturday didn't happen, that it didn't leave me feeling shattered.
But it did happen, and it did leave me shattered.
Despite the high profile of breast cancer in Australia, and the excellent research and development that has saved so many lives, we're still not thinking about what everyday life is like for the women who 'live' the personal stories we hear.
October is breast cancer awareness month. It's the pink storm season, where women (and men) walk through blizzards of pink ribbons, pink social media campaigns, pink merchandise, and pink-themed events.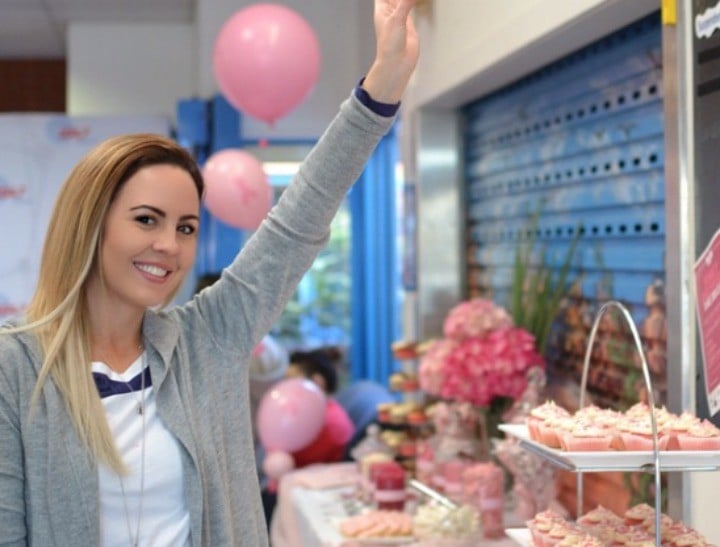 The storms have gained such momentum that intelligent and well-meaning people are starting to wonder whether we really need to generate more awareness of breast cancer.
My mother — who has had cancer, removed her breasts and ovaries, and supported two daughters who share her BRCA1 genetic mutation — talks about having to brace herself for October and the relentless reminders of our personal struggles.
We all know that diagnosis is terrifying. We know that chemotherapy and radiation therapy are brutal; these are unbearable treatments that drain the life from a woman's body. We know that mastectomies are confronting procedures that tear away a symbolic and functional part of a woman's femininity and leave her with ferocious scars.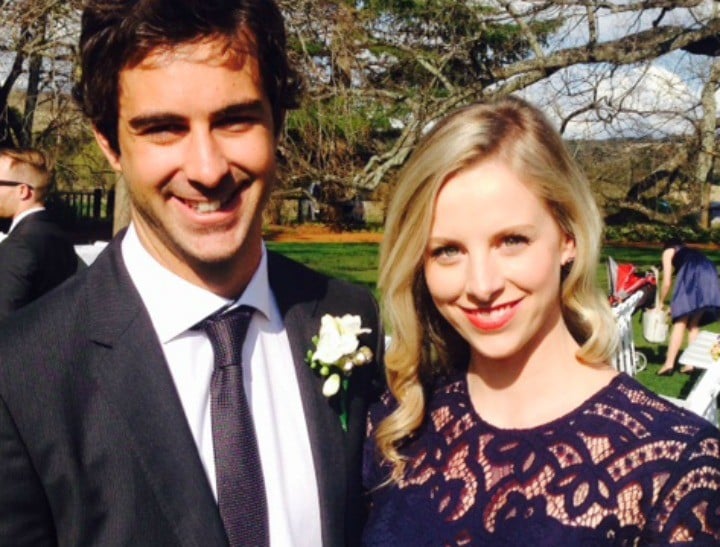 But are we aware of the details of these experiences? Do we know how to treat the women undergoing treatment, or the 15,600 women in Australia who are likely to be diagnosed with breast cancer this year?
Even after growing up in a family where breast cancer is an unfortunately common topic of discussion, I had a lot to learn. Expanders, drains, and karyomapping were some of the strange parts of a puzzle I'm still putting together.
If I've raised anything you hadn't heard of, or thought about before, or you hadn't really turned your mind to the feelings, the decisions, the side-effects, and the practical difficulties for women living this frighteningly common experience, then I urge you, please continue to support breast cancer awareness this October.
There is much more to become aware of.