There are lots of things you could say about President Donald Trump.
You might say he is divisive in his treatment of immigrants, backward in his environmental policies, sexist in his dealings with women…
But the internet, right at this moment, is saying none of these things.
No, the internet is focusing on one, very specific, aspect of his presidency: How tight he wears his
How tight he wears his wristwatch.
Photographs of the 45th President of the United States playing golf show him wearing an extremely tight gold (of course it's gold) wristwatch.
Safe to say, it has Twitter wondering what might happen next.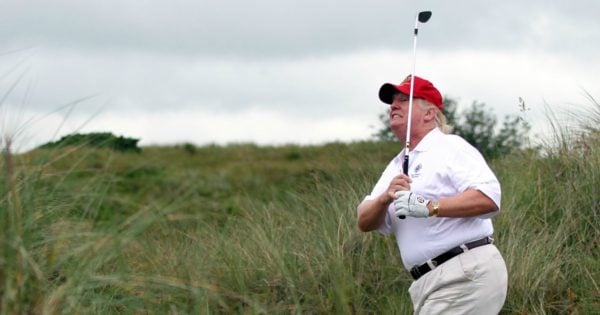 Might his "tiny" hand lose circulation entirely and simply drop off?
Might the watch explode off his wrist during one of his patented awkward handshakes?
Might his hand turn purple mid-gesture while he's delivering a speech about something that little to nothing to do with the tightness of his watch band?
Thank you, Twitter, for distracting us from all the other things we could be saying about the Trump Administration.
very few things gross me out as much as donald trump's watch band pic.twitter.com/mWOA8sQKi7

— joe mande (@JoeMande) June 25, 2017