For the second time this week, President of the United States Donald Trump is in trouble for racism.
On Monday, it was calling Senator Elizabeth Warran "Pocahontas" during an event honouring the Navajo Native American people at the White House.
Now, he's re-tweeted three videos from the leader of a far-right group in Britain, Jayda Fransen. The videos are blatantly anti-Muslim and depict violence.
LISTEN: A discussion about all the ridiculous things the President has said on Twitter this week. Post continues after.
Fransen, a 31-year-old from London, is the deputy leader of 'Britian First'. According to The Sun, she is currently on bail facing four charges of religiously aggravated harassment and, as reported by CNN, she was convicted of the same crime in November last year after abusing a woman with four children who was wearing a hijab.
Of course, Fransen's over the moon at Trump's endorsement.
"Thanks for the retweets @realDonaldTrump," she tweeted. "I'm facing prison for criticising Islam. Britain is now Sharia compliant. I need your help! God bless."
Thanks for the retweets @realDonaldTrump
I'm facing prison for criticising Islam
Britain is now Sharia compliant
I need your help! God bless

— Jayda Fransen (@JaydaBF) November 29, 2017
The videos are deemed 'too sensitive' to show by Twitter, but their captions say it all.
VIDEO: Islamist mob pushes teenage boy off roof and beats him to death!
VIDEO: Muslim Destroys a Statue of Virgin Mary!
VIDEO: Muslim migrant beats up Dutch boy on crutches!
"Donald Trump himself has retweeted these videos and has around 44 million followers! God bless you Trump," was Fransen's immediate reaction to his interest.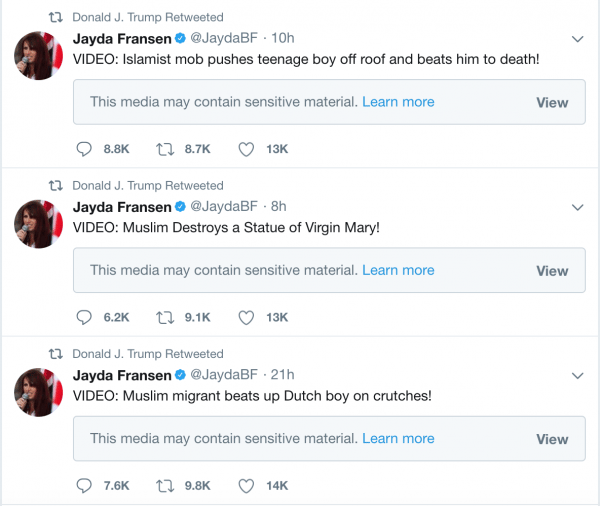 Trump has never been shy about his view that immigration from Muslim-majority nations poses a threat to US security - he notably blamed Muslim immigration for the Orlando nightclub massacre in June last year, incorrectly called the perpetrator 'an Afghan', when he was really an American citizen born in New York.
But rarely has Trump been so blatantly offensive than in retweeting the videos shared on Wednesday.
LISTEN: Mia Freedman and Amelia Lester deep dive on everything in the world of Trump this week. Post continues after. 
It almost seems like a prank - such vile material being endorsed by the President of the United States - except White House press secretary Sarah Sanders has defended the retweets. According to CNN, she told reporters Trump shared the videos to 'start a conversation'.
"I think his goal is to promote strong borders and strong national security," Sanders reportedly said. "What the President is focused on, is dealing with those real threats, and those are real no matter how you look at it."
The move has been slammed by British politicians, with Theresa May releasing a statement calling the messages "hateful narratives which peddle lies and stoke tensions", according to Associated Press.
Via a spokesperson, May said it was "wrong for the president to have done this".
There are also calls from the British opposition to cancel Trump's upcoming UK visit, with Labour MP Chuka Umunna telling Sky News: "He is normalising hatred. If we don't call this out we are going down a very dangerous road."