Time Inc has asked the Trump organisation to remove fake covers of its magazine featuring an image of US President Donald Trump which are currently on display at various Trump-owned golf clubs.
The fake cover has a photograph of Trump with his arms crossed, accompanied with the headline: "Donald Trump: The 'Apprentice' is a television smash!" according to the Washington Post.
Above the Time nameplate is another headline, saying, "Trump is hitting on all fronts … even TV!"
The newspaper said the cover was framed and hung in at least five of Trump's golf courses from South Florida to Scotland, but some of the golf clubs had already removed copies of the phoney cover.
A spokesperson from Time Inc confirmed on Tuesday that it had requested the Trump organisation remove any further copies of the cover – which is erroneously dated March 1, 2009 – from the company's golf clubs.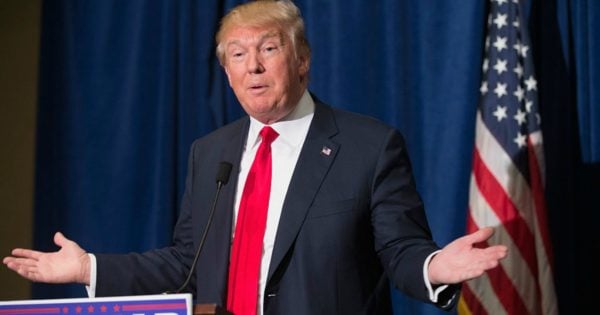 The real cover of Time magazine published on March 2, 2009, featured an image of actress Kate Winslet.
It's not known who created the fake cover, although the bar code featured on the image matches up with a graphic design tutorial posted online in 2010, the Post said.
The Trump organisation did not respond to questions this week about who made the cover and why it was displayed at Trump clubs, the newspaper said.
Don't stress, you can make your own Time magazine cover too
Wondering how Trump has been making his own Time covers, and keen to get in on the action? Apparently it's quite a simple photoshop job, according to a blog post from graphic designer Leo Amoretti.
He takes his readers on a step-by-step process on how to get the perfect fake cover, with everything from barcodes to red borders. Here's how you can be just like Trump.

Need an update on all things Trump related? Check out our podcast called Tell Me It's Going To Be OK which covers all things Trump and US politics.