After three weekends of glorious comedy roastings, Republican presidential candidate Donald Trump has finally taken issue with Alec Baldwin's (highly accurate) Saturday Night Live portrayal of him.
Clearly unimpressed by the impersonation, Trump tweeted about the latest weekend episode on Sunday.
"Watched Saturday Night Live hit job on me.Time to retire the boring and unfunny show. Alec Baldwin portrayal stinks. Media rigging election!" he wrote,
Baldwin's portrayal of Trump began three weeks ago following the first debate and was immediately shared around the world and praised for both its likeness and hilarity.
In his second week, Baldwin took on the leaked footage of Trump saying sexually assaulting women was allowed "when you're famous".
"Are you not entertained?" Baldwin asked the comedian playing a news anchor, Cecily Strong."What I am doing is apple-a-gising to all the people who were offended by my statements. But more importantly, to the people who were turned on by them. I hear it's really 50/50," Baldwin Trump said.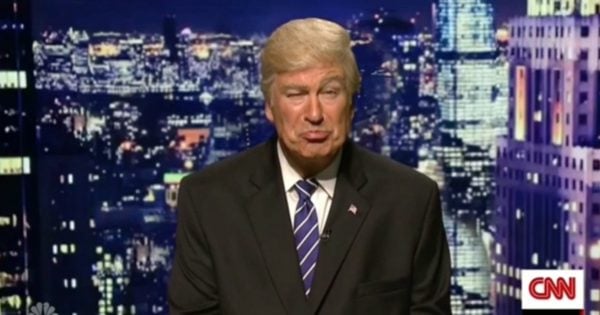 Alec Baldwin as Donald Trump on Saturday Night Live. Source: SNL.
Then over the weekend, Baldwin returned to the stage with Hillary Clinton's spoof actor, Kate McKinnon, to reenact the third debate.
This time, the duo covered the new sexual harassment and assault claims that have come out against Trump and Trump's counter-claims against Bill Clinton.
And as you'd expect, it was truly glorious.
The SNL debate goes on. Post continues...