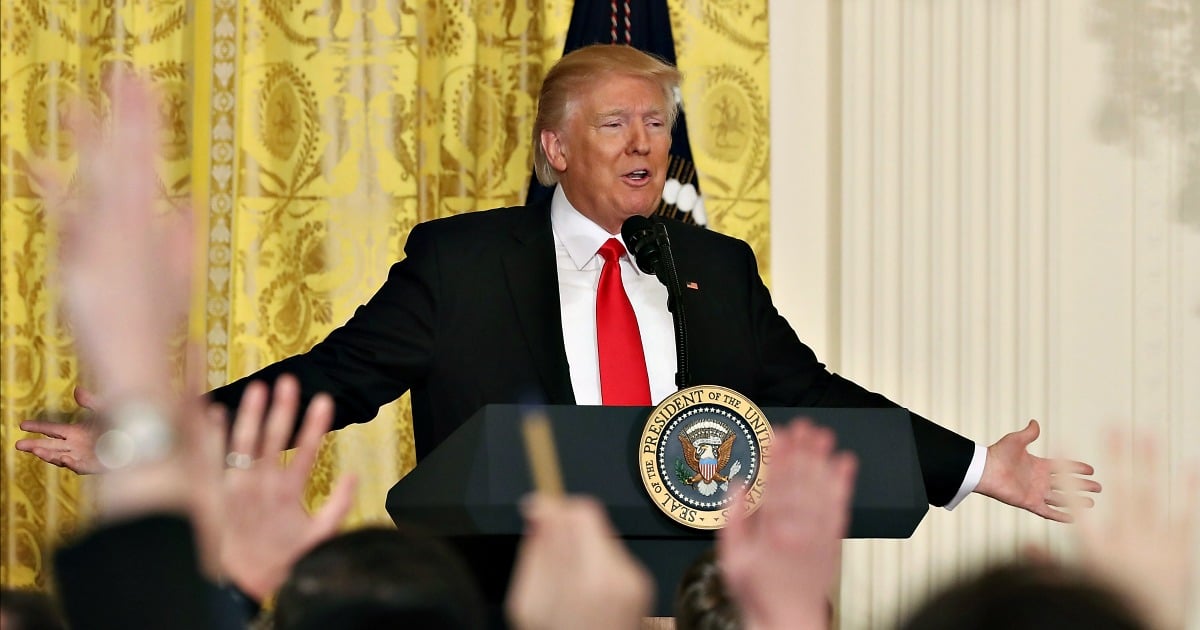 By Zoe Daniel.
US President Donald Trump continues to escalate his conflict with the press, declining an invitation to attend the annual White House Correspondents dinner and doubling down on his statement that the mainstream media — and what he claims is its fake news — is the enemy of the American people.
"A few days ago I called the fake news the enemy of the people and they are, they are the enemy of the people," Mr Trump said.
On Friday major media outlets were excluded from an off-camera press briefing at the White House, prompting calls for a boycott of briefings altogether.
"In a lot of cases it does look like a war. It looks like The Washington Post and The New York Times are directly contradicting the White House over and over," Vox media writer Carlos Maza said.
"I don't think that's because those newsrooms want to be at war with the White House. I think it's because those newsrooms badly want to tell the truth and describe reality as it is, and we have a White House that has a very strong incentive to describe reality as something else."
Media have 'nobody but themselves to blame'
The President's relationship with the press has been fraught for some time, as news organisations have repeatedly picked up on falsehoods in his public statements. Of late, however, stories damaging to the administration on things like links to Russia have been a clear source of frustration.
White House chief strategist Steve Bannon has taken to describing the media as the "opposition party".
"I think if you look at the opposition party and how they portrayed the campaign, how they portrayed the transition and how they're portraying the administration, it's always wrong," Mr Bannon said on Friday.
Mr Trump's supporters agree.
"The only people that can undermine trust in the press are the press, and they have done a bang-up job of undermining their own credibility over and over and over again. So they have nobody but themselves to blame," said Patricia Bast Nyman, a lawyer and supporter of Mr Trump.
"I think the media is biased and we know that," student Dylan Jones said.
"We just have to take into account that bias, and just know that there are people out there that actually believe he's doing a good job."
'Unlike anything I've seen'
The Trump administration is posing a unique challenge for reporters, even veterans of multiple administrations like John Karl, who is the chief White House correspondent for ABC America.
"It's crazy, it's unlike anything I've ever seen. I've covered four different presidents now. The pace of the news is so much quicker, there's unpredictability, you're never sure exactly what he's going to do next," Mr Karl said.
There's also new blood in the media pack, as right wing, and sometimes niche organisations, gain access.
"If you look at Sean Spicer's press conferences, he's bypassing that front row of journalists who traditionally got the first questions and going to conservative organisations," said Rob Bluey from conservative news site The Daily Signal.
"The Daily Signal has a reporter in the press briefings, for instance, that gets called on. The President himself, during his meetings with world leaders, bypassed the traditional press and went right to other outlets — so there's definitely a different dynamic between the press and the White House."
Conservative radio host Tim Constantine said the mainstream press has to take some responsibility for the combative relationship.