Former Miss Universe Jennifer Hawkins has today described Donald Trump as "respectful" despite sickening new video emerging of the presidential candidate humiliating her in front of an audience of thousands when he was in Australia several years ago.
The footage captures Trump making crude sex jokes at Hawkins' expense on stage before leaning in for a kiss.
The video shared by The Huffington Post is said to have been taken during a corporate event in Sydney in 2011.
It begins with Trump expressing his belief in the power of exacting revenge on those who slight you.
"I believe, get even with people, if they screw you, screw them back, 10 times harder," he said.
"And I'll give you an example, Jennifer Hawkins."
The Republican candidate goes on to explain how upset he was with her because he believed she had declined to introduce him at the event.
"I thought she dissed me," he said.
He then repeatedly calls for Hawkins to join him on stage and she dutifully complies.
"There was a miscommunication, of course I wanted to come here," she said.
"I found out this morning. It was a miscommunication with my management, so I'm sorry."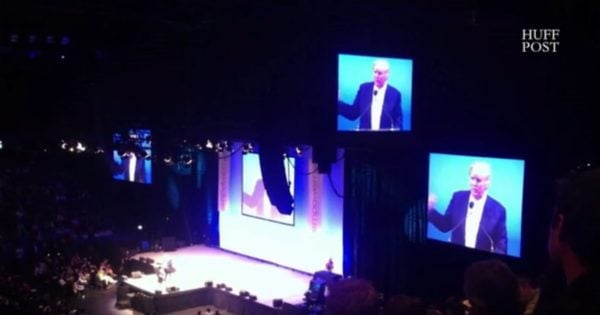 The public apology didn't seem to be enough so Trump retakes the microphone and begins to talk openly about the model's intellect.