Donald Trump has railed against the "fake news" and the Washington "sewer" in front of 40,000 chanting and cheering Boy Scouts in West Virginia.
"Who the hell wants to speak about politics?" Trump boomed. He was at the National Boy Scout Jamboree at the Summit Bechtel National Scout Reserve on Tuesday.
He started off by talking to the crowd of mostly-teenagers about how to live with honour and achieve their dreams. It didn't last long.
Soon, President Trump was talking about the 'forgotten' people that the Republican party represents.
He channelled his former Celebrity Apprentice days and threatened to "fire" his Health Secretary Tom Price if he wasn't successful in overhauling Obamacare. "He better get them, otherwise I'll say, 'Tom, you're fired!'" he told the crowd.
He talked about the political "swap" he has previously promised to drain, referring to the politicians on Capitol hill. He told the boys he's thinking of changing the term to "sewer" or "cesspool". "I see these politicians. It's not a good place," he said.
Would The Real Donald Trump please stand up? Post continues below.

He expressed surprise at his own presidency, asking "who thought this was going to happen?"
He said he'd rather be there, in Virginia, hanging out with the Boy Scouts, as opposed to in the White House answering to those in the "sewer".
He said he was in fact 'Making America Great Again' and said the stock market is rising and jobs are increasing. "What's going on is incredible," he told the crowd.
Oh, and he wouldn't stop talking about fake news.
"Man, this is a lot of people. That is so incredible," he said. "By the way, what do you think the chances are that this incredible massive crowd, record setting, is going to be shown on television tonight? One percent or zero? The fake media will say, 'President Trump spoke before a small crowd of Boy Scouts today'."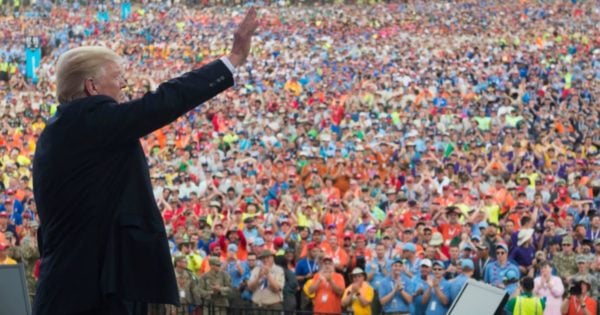 Occasionally, he remembered where he was and returned to talking about Boy Scouts. "Boy Scout values are American values," he said. "And great Boy Scouts become great, great Americans."
But parents - and fellow Scouts - are angry. One man, a former Eagle Scout, Ted Genoways, took to Twitter to remind the President that Boy Scouts has never been about politics. His tweets soon went viral.
As Scouts, we were taught never to make our service about politics. Scouts are not supposed to appear in uniform at political events.

— Ted Genoways (@TedGenoways) July 25, 2017
And yet, Trump saw fit to turn the largest gathering of Boy Scouts into a political gathering, as if they had come together only to see him.

— Ted Genoways (@TedGenoways) July 25, 2017
It's the worst kind of desecration, and it he does it repeatedly and without a second thought.

— Ted Genoways (@TedGenoways) July 25, 2017
North Korea threatens nuclear weapons???? and we're stuck with a leader who can't even give an appropriate speech to a group of Boy Scouts. ????

— Wendy Bass (@BassAction89) July 25, 2017
Parents aren't only angry at President Trump. They're angry at the event organisers, also.
"Based on his history of inappropriate comments and language, I can't believe you didn't require a transcript of his speech prior to him giving it," one mother wrote to the Boy Scouts of America Facebook page. "Your group owes an apology to those young men and parents in attendance and the rest of us who listened to it."
"We were considering signing our grandson up for Scouts. This lunacy has changed that," another woman added.