We always knew Donald Trump would come out swinging after a video showed the truth of his vulgar views of women over the weekend, but we never thought he would go this low, or that his underlying message would have such an outdated sexist clarity to it.
But if there's one thing we should know to expect from The Donald by now, it's to not expect much at all. Not even the minimum level of human understanding or decency.
Appearing at a press conference just hours ahead of the second presidential debate on Sunday, Donald Trump was joined by four women – three who allege they were sexually assaulted by Bill Clinton, and one whose alleged sexual attacker was defended by Hillary Clinton.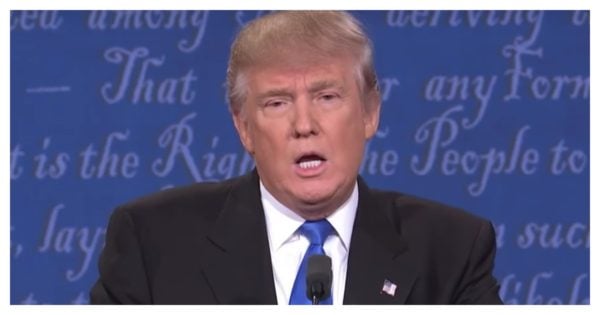 Donald Trump during the first presidential debate. Source: Getty. 
The press conference lasted just three and a half minutes and allowed for no questions from the media.
Obviously, there's nothing trivial about the allegations these women are making. They're serious, and they should not be silenced or swept under the rug.
But Hillary Clinton is not Bill Clinton. Hillary Clinton did not commit sexual assault, and has not been accused of sexual assault.
Trump is using Hillary Clinton husband's behaviour against her, as though she is in some way directly and personally responsible for his actions. It is misogynistic and seriously misguided.
Trump's press conference ahead of the presidential debate. Post continues...