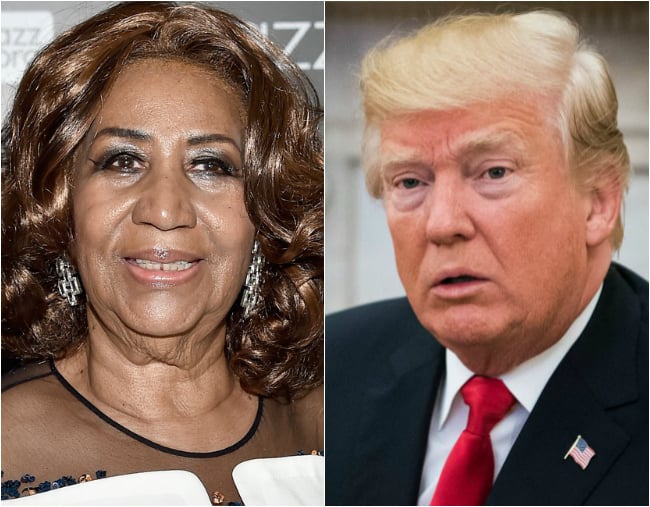 The world is in mourning after the death of soul legend Aretha Franklin.
But in amongst the warm memories, heartfelt words and touching tributes shared was a statement so narcissistic only one man could be responsible: Donald Trump.
The US President somehow managed to make the death of one of his country's greatest icons all about himself.
We unpack Trump's leaking former aide and what it means to have 'security clearance' on our Trump podcast. Post continues after audio.

Want to hear to more?  Subscribe to Tell Me It's Going To Be OK.
"I want to begin today by expressing my condolences to the family of a person I knew well," he began, before bizarrely adding "She worked for me on numerous occasions."
The rest of his statement was not too bad by Trump standards – it didn't make sense at points, but didn't continue to be downright offensive.
"She's brought joy to millions of lives and her extraordinary legacy will thrive and inspire generations to come," President Donald Trump said Thursday, expressing condolences to the late Aretha Franklin's family at his cabinet meeting. pic.twitter.com/1zGSWJLVj8

— POLITICO (@politico) August 16, 2018
"She was terrific – Aretha Franklin – on her passing."
"She brought joy to millions of lives and her extraordinary legacy will thrive and inspire many generations to come.
"She was given a great gift from God — her voice, and she used to well. People loved Aretha. She was a special woman. So just want to pass on my warmest best wishes and sympathies to her family."
Social media users reacted with a mixture of outrage, disbelief and sighs of dissapointment once the words were shared on Twitter.
What about "best wishes". Wtf extends best wishes on some ones death.

— Cindi French (@ciddurban) August 16, 2018
He ruins everything. Everything.

— Sheila Quirke (@MaryTylerMom) August 16, 2018
Trump: "Let me start my remarks on the passing of a music legend by talking about how she was subservient to me in the past". What a clown.

— Drew Gibson (@SuppressThis) August 16, 2018
"A person I knew well" in Trump speak must mean we ran into each other at celebrity parties over the years and my publicist made her take a picture with me each time.

— Amy Grimm (@AGRIMMONE) August 16, 2018
As for Aretha "working" for Donald Trump, the best we and others could find is that the singer had, on a few occasions, performed at Trump's caninos and also at the opening of Trump Tower in 1997.
The 72-year-old's statement becomes even more embarrassing when you compare it to the heartfelt prose crafted by his White House predecessor Barack Obama.
We don't know whether we feel better or worse after reading that.
To read some beautiful tributes to Aretha Franklin, click here.