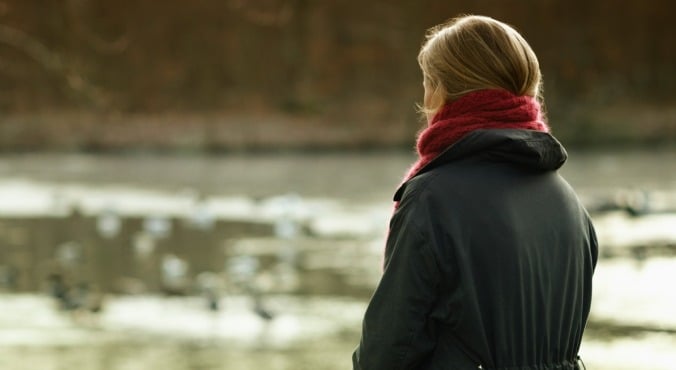 Image: iStock. By Nikki Gloudeman for Ravishly. 
I still look back on it as the ugliest, rawest experience of my life. I had just learned that my then-boyfriend cheated on me while I was asleep in the next room, and the revelation set off a chain of reactions that grew more unhinged and volatile by the moment: first a benign crushing migraine, then crying, then yelling. And then, finally, physical violence.
The movements shot out of me with the precise explosiveness of a flare gun: I shoved him, hard, and when he curled up in a ball on the floor, arms wrapped around his knees, I kicked him, again, again, again.
I did no actual harm—no bruises, no blood, not even a red mark—and my anger subsided, of course. Yet I still remember when it was all over how our bedroom resonated with the haunted silence of a crime scene after the crime. I couldn't shake what had just happened, or the disturbing feeling that I had taken things too far.
Since then, I've compartmentalised this dark moment of my life away. But I was reminded of it again last year when, of all things, Solange Knowles captivated America with her outburst against her brother-in-law, Jay-Z.
While at the time there was ample speculation about why the attack happened, no one seemed all that concerned about the violence itself, which it's worth noting was surprisingly brutal and unrelenting. If the tables had been turned, there would've been an outcry; as it was, people were curious but not aghast.
Of course, there are sound reasons to be less alarmed about female-on-male violence than the opposite: namely, men are typically more physically dominant and therefore able to inflict more harm on women, and they tend to be in a position of power when the violence is happening. (Post continues after gallery.)
Celebrities who suffered from abuse
But if the reason to brush off this form of violence is a lack of physical impact, should we then allow men to be violent against women when there's no threat of injury? Is it OK in situations where the man is physically weaker than his female partner? What about homosexual couples—is lesbian violence always fine, and gay violence always not... or does it not matter, because they're hypothetically on a similar playing field?