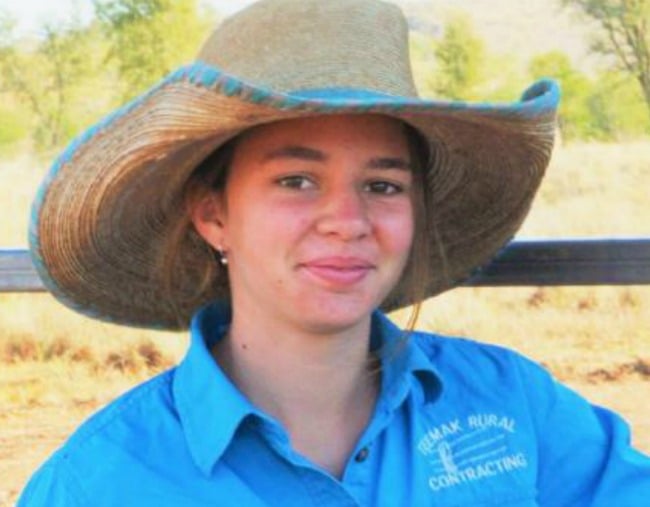 1. Dolly Everett's parents reveal the full extent of her bullying in TV interview.
On Tuesday, May 1, Dolly Everett should have turned 15. Instead, her parents were interviewed by Tracy Grimshaw on A Current Affair, in an attempt to raise awareness about the dire impacts of bullying on young people.
In the emotional interview, Tick and Kate Everett outlined for the first time the extent of the bullying Dolly suffered at the hands of her peers.
"She told me that boys were calling her a slut, she was 12. I don't know whether 12 year olds even know what that means, they shouldn't."
Kate tried to get the school to intervene.
"It was basically just swept under the cover," she said.
Watch Dolly's parents on A Current Affair. Post continues after video.
They said that one boy in particular would call Dolly names and push her over, and one day, Dolly retaliated. She "decked" the other student, resulting in her being suspended.
After that, Tick and Kate thought the bullying was over. Then they got a phone call from the school.
A boy at Dolly's school had convinced her to take "inappropriate photos" of herself.
"She just went from the most enjoyable little girl to someone that did end up in trouble at school there's so much that I found out now, as opposed to then, and it probably would've made the outcome so much different," Kate said.
Tick added they they missed "so many alarms".
Now, Dolly's parents are campaigning against bullying, and have started the Dolly's Dream foundation, to raise awareness of bullying, anxiety, depression, and youth suicide.
If you or someone you know needs help call LifeLine on 13 11 14 or the Kids Helpline on 1800 551 800.
2. Former AFL coach Mark "Bomber" Thompson charged with drug trafficking.
Former AFL coach Mark "Bomber" Thompson will next face court later this month charged with drug trafficking, after illicit substances were allegedly found in a locked room of his Melbourne home.
The 54-year-old - who played in three premierships with Essendon and coached Geelong to two flags, was granted bail in the Melbourne Magistrates Court on Tuesday after being charged with seven drug-related offences - including trafficking and possession, AAP reports.
The court was told quantities of methamphetamine, ecstasy, LSD and MDMA were found in plastic bags during a January raid on Thompson's Port Melbourne home.
It was alleged some of the drugs were found in a small room protected by a keypad and only Thompson had access to it.
Senior Constable Naomi Bourke told the court ice pipes, resealable bags, weight scales and hard drives were also found at the property.
A police summary alleged Thompson's DNA was found on a bag with MDMA in it and on other bags containing drugs.
Const Bourke opposed Thompson's bail application, saying he was a flight risk because he had access to a yacht and money.
But the AFL great was bailed on strict conditions, including a requirement he report to police three times a week.
He also agreed to pay a $20,000 surety and notify authorities if he needed to travel interstate for football commitments.
Thompson is due to return to court on May 25.
3. Murder probe on businesswoman found dead in Sydney river.
Homicide detectives are investigating the death of a woman whose body was found by kayakers in a Sydney river on Sunday, AAP reports.
Although the woman has yet to be formally identified, she is believed to be Brazilian national Cecilia Haddad.
She was reported missing by her friends on Saturday and a post-mortem is to be carried out on Wednesday.
Ms Haddad's fully clothed body was found by kayakers on Sunday morning in the Lane Cove River in Woolwich, on Sydney's Lower North Shore.
The 38-year-old worked for a mining company in Western Australia before moving to NSW in 2016 to work as a logistics manager for a freight company, and was most recently living in an apartment on St Annes Street, Ryde.
Homicide Squad detectives are appealing for public assistance to piece together Ms Haddad's movements on the weekend before her death.
"By all accounts, Cecilia enjoyed an active social life and had made a large circle of friends during her time in Sydney," Detective Acting Inspector Ritchie Sim said.
Ms Haddad was reported missing when she failed to keep various appointments on Saturday, with her friends describing it as completely out of character.
"So far, we have been able to establish Cecilia went to a barbecue on Friday night and then spoke to friends on Saturday morning, but her movements after that time are unknown," Det Insp Sim said.
Police were told Ms Haddad's car, a red 2013-model Fiat 500 sedan with a black roof, registration number DJV50H, was seen outside her home on Saturday afternoon. They are keen to speak to anyone who may have seen her or the car after that time.
"We are specifically seeking CCTV or dash-cam footage of Cecilia or her vehicle, possibly in the Hunters Hill, Ryde, Top Ryde, West Ryde, and Woolwich areas over the weekend," Det Insp Sim said.
4. Dog who saved young girl officially becomes an honorary police dog.

The deaf and partially blind blue heeler who kept a three-year-old girl safe overnight has become Queensland's very first honorary police dog.
On April 20, three-year-old Aurora wandered off her family property at Cherry Gully, south of Warwick.
Max, the 17-year-old family dog, followed Aurora and stayed by her side as she slept overnight in bushland while temperatures dropped to 15C.
About 100 police, State Emergency Services workers, and members of the public resumed their search at first light the following day.
SUCH A GOOD BOY, MAX! He stayed with his 3-year-old human who was lost near Warwick last night while we frantically searched for her. For keeping her safe, you're now an honorary police dog. ????https://t.co/QiszGFP4gg via @ABCNews pic.twitter.com/xxRc6ndeaK

— Queensland Police (@QldPolice) April 21, 2018
Then the girl's grandmother, Leisa Marie Bennett, heard Aurora faintly from the top of a mountain on the family property, about 2km from home.
She first found Max, who led her to Aurora, who had only minor cuts and scratches.
"When I heard her yell 'Grammy' I knew it was her," she said.
"I shot up the mountain," Bennett told ABC Brisbane, "and when I got to the top, the dog came to me and led me straight to her."
On Tuesday, police presented Max with a Queensland Police Service collar and medallion.
5. Game of hide and seek ends in tragedy for 10-year-old boy.
A 10-year-old boy has died while playing hide and seek, after he climbed inside a tumble dryer.
Fernando Hernandez Jr. from Houston, Texas, was found unresponsive in the dryer by the other children he was playing with on Friday. Initially, officials thought he had suffocated, but it was later discovered he had been electrocuted.
The boy's mother Christina Rodriguez told ABC 13, "I don't know what happened. I was just inside cooking and my little son came inside and told me my son was dead on the floor."
He was playing with his nine-year-old brother on the day he died.