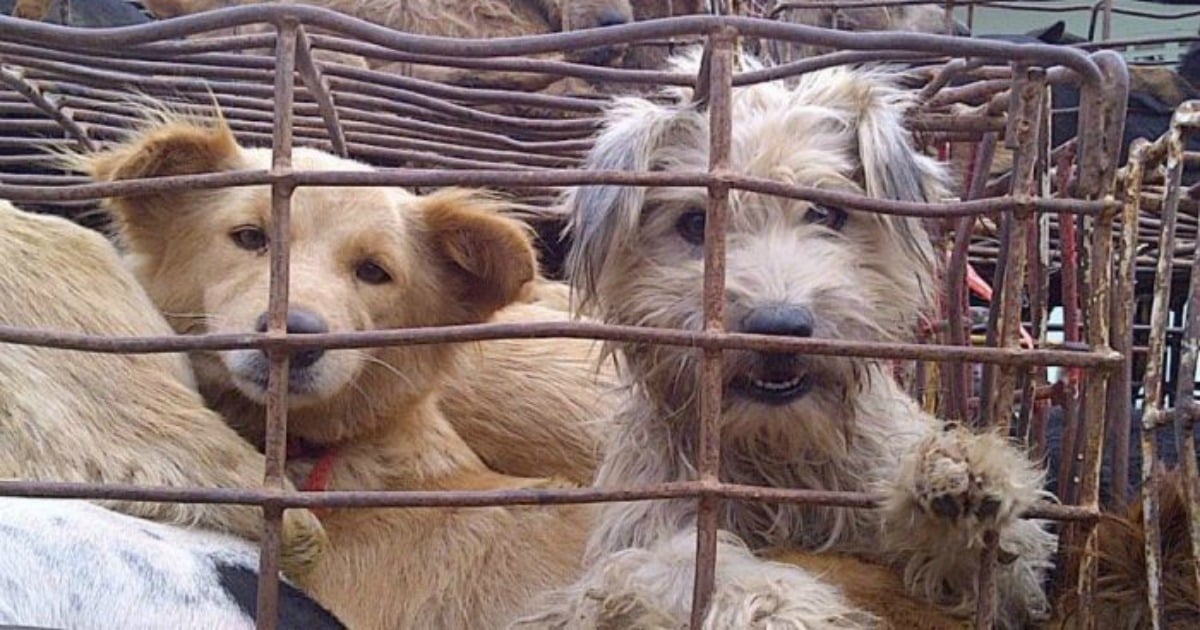 Western tourists are helping to keep the black market dog meat trade alive in South-East Asia, with dogs that are often stolen pets crammed in tiny cages, strung up and boiled alive, according to animal rights activists.
Dog is traditionally eaten by many in Vietnam, China and South Korea but animal rights groups say it is cruel, dangerous and spreads disease.
Kelly O'Meara from the Humane Society International said once captured, the conditions the dogs face were "horrific".
"They are crammed into tiny cages and a good percentage die in transit there."
But the ones that survive face a worse fate.
"If they are lucky, they are clubbed first, others are strung up, often skinned alive, burnt alive and all in front of other dogs," John Dalley, from the Soi Dog Foundation, said.
"The cruelty is abhorrent. There is literally no method to the slaughter, it's almost madness."
They estimate 70 per cent of the dogs eaten in Asia are pets stolen from communities or homes.
"What we are seeing more and more of is tour guides in Vietnam, pushing Western tourists to try dog meat, because it is a cultural thing," Mr Dalley said.
"And tourists are trying it."
Mr Dalley is a co-founder for one of the key groups trying to end the trade.
"Tourists are not realising what the dog has gone through and also the danger they are putting themselves in."
"The health issues are real."
Awareness around the cruelty of the illegal dog meat trade has started gaining global momentum, with international celebrities like Ricky Gervais and Dame Judi Dench fronting an internet campaign against the trade last year.
Celebrities speak out against dog meat trade:
A similar campaign has found success within Vietnam with Vietnamese celebrities leading a well of support against the trade.
But the Humane Society said cruelty was not the only reason the trade must end.
"You cannot address the rabies issue throughout Asia without addressing the dog meat trade, because the trade is correlated with the spread of rabies," Ms O'Meara said.
The Soi Dog Foundation said while slaughtered dogs often tested positive to rabies, it was not the only disease found in most dog meat.
"Some people say eating it is cultural but the fact is it doesn't come under any hygienic controls as other meats do – that has led to outbreaks of cholera in Vietnam and China."
Thai locals, police intercept shipments of dogs
In late 2014 – after a long campaign by animal advocates – killing and trading dog for food became a crime in Thailand.
For years gangs have rounded up thousands of dogs from Thailand – where dog is not eaten but millions of strays are caught as a cheap source of meat for other parts of Asia.