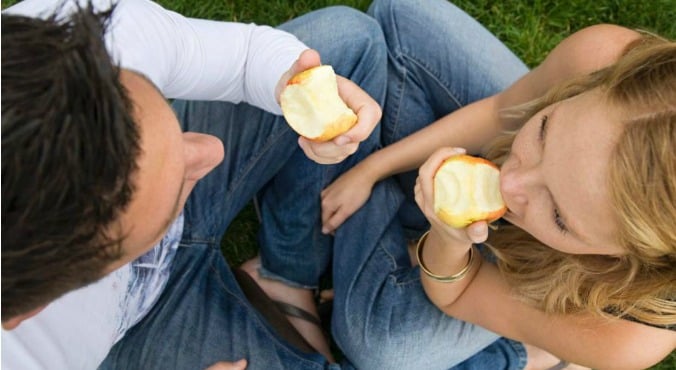 Image via iStock.
By Senaka Ranadheera, Victoria University
There is a growing demand for fruit and vegetables across the Western world, thanks to increased awareness of their nutritional and health benefits. But we've always been taught they might not be safe to eat straight out of the supermarket, and they have to be washed first.
Is this the case? And what might happen if we don't?
What's in a veggie?
Fruits and some vegetables are often consumed raw, fresh-cut or minimally processed, which is often why there are concerns about their safety. Fresh fruits and vegetables and unpasteurised juices can harbour disease-causing bugs (knows as pathogens) such as Salmonella, Campylobacter, Listeria and Shiga-toxin-producing E. coli (strains of E.coli). They can also contain pesticide residues and toxic compounds produced by moulds on the surface or even inside tissues of these foods.
Fresh fruits and vegetables may also contain allergens, which may be naturally occurring or contaminated, that can cause severe discomfort to people suffering from an intolerance. Of the potential risks, contamination with tiny bugs or organisms called microbes is the most prevalent.
The ingestion of very small numbers of dangerous bugs may not be harmful as our immune system can fight them off. But problems begin when the body's defences fail, causing these "bad bugs" to multiply and spread throughout the body.
Watch: A delicious and healthy green smoothie recipe, as demonstrated by the Paper Tiger team. (Post continues after video.)
In recent years, fruits and vegetables such as sprouts, celery and rockmelons were identified as potential sources of food-borne pathogens. They are more susceptible to being contaminated. This has caused a number of health and social issues and major economic losses worldwide.
Last year there was an outbreak of listeriosis in the US, a disease caused by the ingestion of bacterium Listeria monocytogenes, linked to commercially produced, prepacked whole caramel apples. Thirty-five people from 12 states were infected with the disease, and three people died.
In May 2011, Germany experienced the largest epidemic of hemolytic–uremic syndrome (a disease characterized by anemia, acute kidney failure and low platelet counts), caused by Shiga-toxin–producing E.coli associated with fresh produce such as fenugreek sprouts. Over a period of about three months nearly 4000 fell ill with symptoms such as headache and diarrhoea, and a further 800 contracted hemolytic–uremic syndrome. Authorities reported 53 deaths.
In the US in 2011, cantaloupes become contaminated with the bacterium Listeria monocytogenes. One-hundred and forty-six people in 28 states were sick and 30 died.