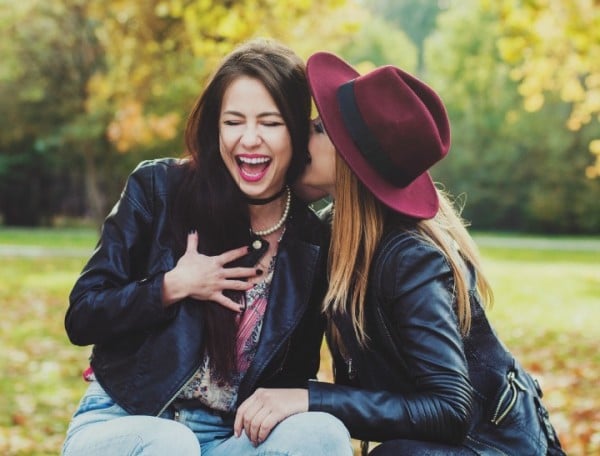 Back when I was a straight girl, I did the makeup thing.
In high school, I spent my evenings doing homework and watching other women show me how to apply bronzer and smudge eyeliner. I became good at it, and I spent the money I made at my afterschool job on $20 mascara and $40 foundations.
But it wasn't that I loved makeup. For me, makeup was about one thing and one thing only: looking pretty enough for boys to like me.
I knew what it took to attract boys. Years of reading beauty magazines eased me into my gender role, and paying attention to which girls were getting dates — and which girls weren't — prepared me to play the part.
One of the most important parts of my beauty routines was my hair: I'm biracial, half-Black, half-White, with long, thick, and kinky-curly hair. But my hair was always, always,straight… when I was straight.
In my world, true femininity meant straight hair. It was a thing that adult women did, and I wanted to be mature. It needed to be done, and I wasn't done until it was. Without sleek and shiny relaxed, hot-combed, and flat-ironed hair, I may as well have not bothered with any makeup at all. What boy would ever find my natural hair attractive?
I did well as a straight girl. I fit in as the mixed girl with long hair and a big butt. I slid easily into that role, and dated the sorts of boys who'd always imagined a girl from a music video on their arm. White boys dated me because it made them feel rebellious; Black boys dated me because I wasn't too Black to be feminine. Both dated me as a foray into the exotic.
I dated some of them because I liked them, and others because I thought I was supposed to. I played my part.
In college, I wasn't interested in any of the boys — they weren't my type — so I stopped obsessing over makeup. I felt more whole, more real and less like a well-decorated façade.
Love makeup? Watch our writer Lizzie show us how to get the dewy skin look. Post continues after video.
It was in my second year of college that a girl expressed sexual interest in me. It took me a month to realise that what I thought were hangouts were actually dates. It took me another month to realise I wanted them to be dates.