It's all big colours and loud music and lights shining and lots of sparkle. There are g-strings and shiny bras and nakedness and hair-sprayed hair. The parade is the ultimate display of diversity; a happy blend of ethnicity, accents, ages, backgrounds, religions, professions. Diversity in sexuality is a given. Every letter in the LGBTI acronym is represented. 1000 times over. There are straight people, too.
The Mardi Gras is an event that makes the gay scene seem fun and happy and 'look how glittery we are'. Oh, how much do we like to party and how good are we at it?
But that's not the reason for it. And this time, every single year, we hear the same debate: Is the Mardi Gras still necessary? 
There are two main arguments for why the Mardi Gras might be obsolete.
The first: we've come a long way and we don't really need it.
The second: it's sending the wrong message. It's full of celebration and sparkle, while the reality of being a part of the LGBTI community is all too often the opposite of celebration and sparkle. It can be marked with pain, fear and sadness, and hiding your true self from the ones you love most.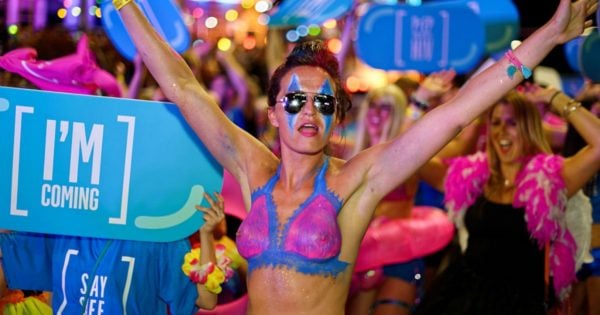 Yes, we have come a long way.
The first Mardi Gras in Sydney was a protest. It was a show of solidarity with the New York LGBTI community caught up in the Stonewall Riots. These riots started when the 'gay-friendly' Stonewall Bar was raided, its US patrons lined up against the wall and arrested if they were in drag, or if a woman wasn't wearing at least three pieces of "feminine clothing". Riots followed, where the LGBTI community around the globe, including Taylor Square in Sydney, stood up for the right to express their love and sexuality freely — without judgement and without arrest.