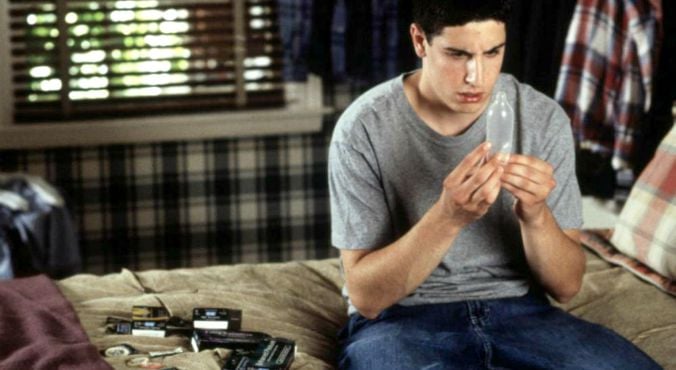 Image: American Pie.
"It's like showering in a raincoat." "I don't get as much pleasure." "It kills my erection." Hands up if you've ever heard these protestations fall out of a man's mouth the moment a condom wrapper comes into view?
For anyone who doesn't want to put themselves at risk of an STI (so… that's all of us?), and who doesn't want to fall pregnant, putting on a condom is a vital step in the practice of safe sex. Yet there are grown men out there who try to bypass it, using the excuse it impairs their sexual performance and robs them of pleasure.
RELATED: Meet the new female condom that's "guaranteed" to give you an orgasm.
If you've always suspected this was complete bullshit (yep, us too) you'll be pleased to know science is on your side. Sorry, men.
According to the results of a new study in The Journal of Sexual Medicine, heterosexual men who blame condoms for difficulties during sex are more likely to experience general erectile dysfunction than those who don't.
As The Daily Beast reports, researchers surveyed approximately 500 men aged between 18 and 24. Of this group, 38 per cent reported no effect of condoms on their performance, while 32 per cent said condoms affected their ability to maintain an erection. (Post continues after gallery.)