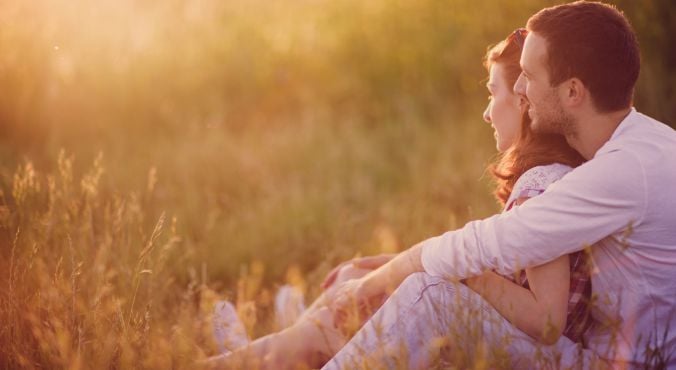 Image via iStock.
My plane landed in Chicago. I made arrangements beforehand because I knew that running to the gate wasn't in the cards for me. My health had been back and forth over the last few months.
I travelled a lot over the summer, and trying to make my connection flight a few months earlier in Atlanta practically sent my heart over the edge.
RELATED: #ProjectWomanKIND is all about body love, regardless of your shape or size.
I was very close to passing out and at that point I knew that in the big airports I needed a wheelchair. It wasn't an easy decision to make.
What if I was to meet a potential attractive stranger in the airport like what happens in the movies? Would he still find me sexy in a wheelchair? Would I still be approachable? (Post continues after gallery.)
Our favourite on screen couples.
In my day-to-day life I do not need a wheelchair, and I'm more comfortable being seen naked than letting someone into the vulnerable depths of what I look like when curled up in a hospital bed. I'm able to space out my spurts of energy.
I can play "health pretend" for a while. This wasn't my first run-in with wheelchair land. I was paralyzed in high school by a condition called Guillain-Barre and had to learn how to walk again.
I think what got me through this was mercilessly flirting with my physical therapist who was trying to get me up and walking again.
There was something inherently sexy about it to me – a young twenty-something trying to get my limbs to work the way he wanted them to. Nothing scandalous happened, but it helped me feel physically attractive in a situation where I felt such loss of control.
RELATED: Why the most asked question about sex is the hardest to answer.
Disability and sexuality are a complex and intertwined topic. Dating requires the willingness to put yourself out there, and it's challenging when your body is fighting against you.
Then hair starts falling out because of illness. Then you puff up due to steroid treatments. Then you can't drive because your condition no longer allows you to. How is one to compete with a body that is behaving fairly dramatic? It may be easy to presume that disabled does not equal sexy, but this couldn't be further from the truth.