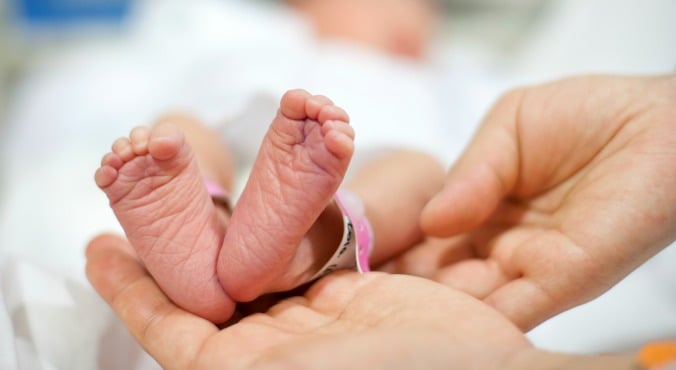 Image: iStock. By Katherine DM Clover for Ravishly.com.
I've been reading parenting advice online and in books since way before my son was born last year. I've always been the kind of nerd who loves to do research, and having a kid was a huge project for which I happily read almost anything I could get my hands on.
Plus, I was incredibly sick while I was pregnant, so I had plenty of time (which will never again be the case, now that he's here).
Through all of that, I've noticed something about the way that people write for and about new parents. There is a phrasing that people tend to use to talk about the harder parts of parenting infants, and it gets under my skin more and more the longer I am engaged in this work: It can be difficult.
As in, "It can be difficult to adjust to caring for a newborn while also suffering from sleep deprivation."
Or, "If hospital staff are pressuring you to start supplementing, it can be difficult not knowing when your milk will come in."
Or, a personal favourite — "While sleep regressions can be difficult for all involved, they don't last forever!"
Watch: Radio host Ben Fordham recalls the experience of witnessing the birth of his son. (Post continues after video.)
I think "It can be difficult" probably qualifies for the understatement of the century. There is just nothing in a phrase so casual and noncommittal that conveys anything like the reality of this labour of love.
I'm not saying that we need to be all doom and gloom about parenting all the time — there are plenty of joys in parenting, and plenty of space to talk about those joys — but I do think that when we're trying to talk about the hard parts, we should, y'know, actually talk about the hard parts.
Because it isn't enough to say that the third sleepless night in a row, or the fourth puked-on onesie, or the seventh time you've been kicked in the gut can be difficult. It's frankly insulting to those of us currently living through all of that, and it doesn't do anything good for those brave souls on the cusp of parenthood who are attempting to prepare.
Instead of "It can be difficult," let's try, "It is completely impossible… But you'll do it, somehow."
First of all, it's not that it can be difficult — it just fucking is difficult, OK?
Secondly, it's not difficult. It is hard in a way that you never imagined that a thing could be hard. It is impossible. (Post continues after gallery.)
Celebrities during pregnancy