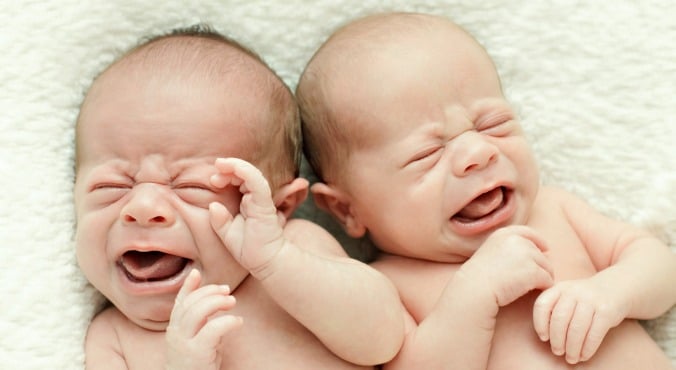 Image: iStock.
"I didn't ask for twins," I admitted to my best friend on the phone as I cried myself to exhaustion.
This came on the heels of a silly ranting Facebook post that my husband put up (and quickly deleted) about not having any time nor energy these days. Someone commented #lifechoices.
It was a dumb thing to even acknowledge, nonetheless have an emotional response to, but we did and I was angry.
The truth was, I wanted three kids. I actually wanted four, but my husband and I had settled on three and I felt good about that, like I could handle it with ease.
I figured I had three to four years to make this happen since my husband is 10 years older than me and we wanted to be young, cool parents. (Clearly, I had it all figured out).
We were really on a roll after my daughter, Summer, was born in October 2013. She was easy breezy.
Watch: Five things you need to know about pregnancy – that no one ever tells you. (Post continues after video.)
We continued bragging about how easy she was, what a good eater she was, what a good sleeper she was, how we just thought parenting was the easiest and most fulfilling job in the world.
We were "those parents." I annoy myself just thinking about it now.
She was so easy that only nine months after her birth, we started trying again. Little did I know, since I had just stopped breast feeding, I would be pregnant in about 15 seconds.
I shot up the morning after my 31st birthday and felt a strong pain in my stomach muscles. A pain I had only ever experienced when pregnant.
I hopped out of bed, took a test and at 5:15 in the morning tapped my husbands shoulder, he rolled over and saw the "+." We both squealed in excitement.
And there you have it. We were so excited, anticipating another round of perfection as far as babies go. Now fast forward six weeks—we bounced into the doctor's office to chat about my options. AKA my supposed demands.
I would not be getting any ultrasounds or invasive tests, round two of a natural water birth, hypno­birthing and no meds, here we come! (Again, childbirth pros over here).
And that's when it happened, the doctor smiled and said: "Umm… there's two." (Post continues after gallery.)
Celebrities during pregnancy