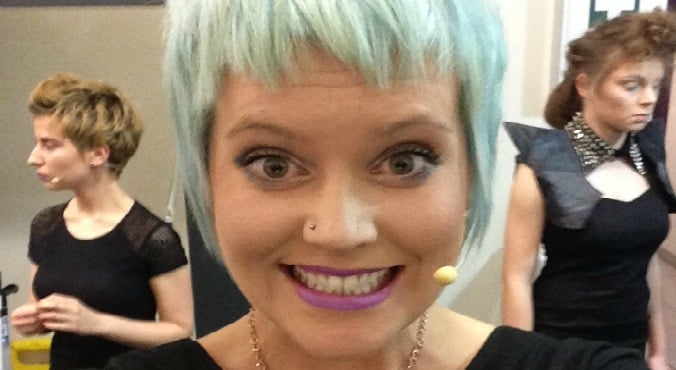 Image: supplied. 
There's no denying it; short hair has a bad reputation at times. "There's nothing you can do with it," we sigh, "It's so boring."
Well Nikki Porter, of Rubi Hair in Melbourne, is here to prove that theory wrong. We asked her to chart her recent hair cycle to demonstrate how short hair can be far from limited.
RELATED:15 things all women with short hair are sick of hearing
1. The perm
"Okay, so this was the near end of my perm before I went short. Just to make it stand out some more, we dyed in fluoro red. I loved the big hair, as my hair is naturally very flat. But no, the perm is not making a comeback, ever again!"
2. The hot-pink shave
"This was my one and only time at modelling. I had recently shaved my bright red perm off for the Leukaemia Foundation and then we put some pink powder in for the day. It looked pretty good in the dark hair and it washed out the next day."
3. Au naturel (for once)
"This is three months of growth after shaving it down with a #3. It's my natural hair colour and I kept it like this for six months, just to prove I could."
4. Raising the tone
"I put in a pretty fun, pinky-purple toner that demanded a shameless selfie for Instagram. It washes out pretty quickly, but you get more pastel shades on the way out."
5. Brassy blonde
"I wanted to try the 'golden' blonde look... and I liked it at the time but I HATE the gold now when I look back on it. Brassy-ass."
RELATED:Follow Nicole Richie's hair transformation through the years
6. Blunt lines
"I love being white-blonde and this was another selfie at our Christmas breakfast. Love blunt lines and still miss this 'do!"
7. Close shave
"Blunt lines to a new level! I shaved from my side hairline and back to extenuate the fringe. A very sharp, fun look."
8. Into the blue
"Such a pretty colour but we were actually aiming for lilac on the day! And I didn't really feel myself while I had it in."
Not sure what to do with your short hair? These essential short hair styling products will make your mornings that much easier...
6 essential short hair styling products
Have you got a hair diary?