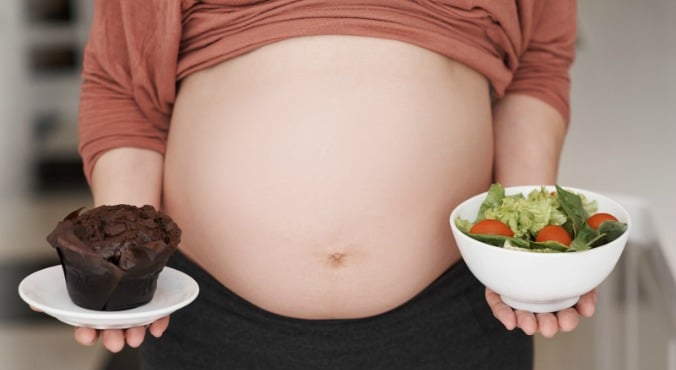 Image via iStock.
By: Andrew Whitehouse, University of Western Australia.
There aren't too many topics about pregnancy more controversial than what a mother-to-be can and can't eat.
No sooner does a couple announce the news of an impending arrival than a woman is bombarded with a list of rules about what she is and isn't allowed to put in her mouth.
RELATED: Just how dangerous is the paleo diet for your child?
"Don't eat foods containing soft cheeses, cold meats, soft-serve ice-cream, salads, raw egg, unwashed vegetables…but don't worry, just take it easy and enjoy the ride". Yeah, right.
While this must drive women barmy, one question that's always intrigued me is about the flavour of the food. The mother and a developing fetus are so tightly connected, an intriguing question is whether a woman's food choices during pregnancy can influence what the child likes to eat after birth.
So, what science is out there? (Post continues after gallery.)
Strange-smelling newborns
The first scientific hint that specific elements of a mother's diet may affect the developing baby came through intriguing reports from hospitals of infants who were born with distinctive smells.
One of the most famous series of case studies came from an Israeli team, who described four newborns with distinctive odours reminiscent of a meal the mother ate just prior to giving birth.
RELATED: You can now buy perfume that smells like a baby's head.
Two mothers in this case series had given birth to babies that had a distinct smell of cumin. After a quick quizzing, the mothers told the researchers that in the days leading up to delivery they had both eaten "schug", which is a Middle-Eastern hot sauce containing cumin, garlic, salt, oil and pepper.
The newborn of another woman had a sharp odour of fenugreek, a leguminous plant with seeds that have a slightly sweet, nutty flavour. Similar questioning found that, just prior to delivery, the mother had eaten a good serve of "hilbeh" – a Yemenite dish prepared from fenugreek.
These case reports provide our first hint of evidence that this old wives' tale may indeed be true. A mother's diet may have a lasting effect on her baby.
The next step is to explore the biological mechanisms through which this may occur.
Flavouring the amniotic fluid
Food and drink that we ingest are broken down into small molecules by our stomach and intestines, and are then absorbed and transferred to our blood stream. During pregnancy, molecules in the mother's blood stream, including those that may produce a smell, can be passed to the bloodstream of the fetus through the placenta and umbilical cord.