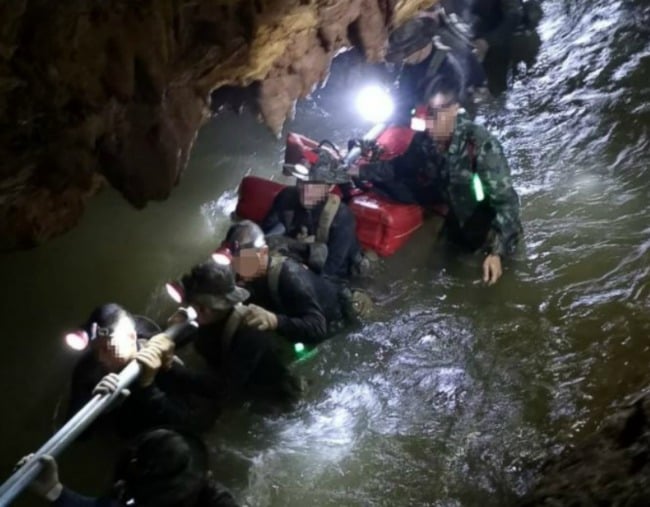 Only hours after the last person evacuated the flooded Tham Luang cave, the rescue team was reminded of how perhaps the biggest danger for those trapped inside had been – from the beginning – time.
The weather prediction for the final rescue mission, which took place on Tuesday local time, had many concerned, as it seemed a hazardous storm was imminent.
With water levels rising, the safety of those inside was increasingly compromised.
The danger present in each rescue attempt had been highlighted by the death of former Thai Navy SEAL and Petty Officer First Class, Saman Gunan on Friday.
The 37-year-old ran out of oxygen inside the cave complex at approximately 2am, while swimming from chamber four to chamber three. Petty Officer Saman had been in the process of setting up air tanks to assist future divers with evacuating the 13 boys, aged between 11 and 16, and their 25-year-old assistant coach.
His dive buddy attempted to administer first aid while still underwater, but was unsuccessful. Once they exited the cave, paramedics again tried to revive him, but it was too late.
Thai soccer team rescued from inside flooded cave. Post continues. 
Petty Officer Saman was the only casualty in the Thai cave rescue operation.
Had they discovered the boys and their coach any later, however, the ending could have been very different.
During the rescue operation, water was being pumped out of the cave in order to successfully extract all 13.
"What we worry most is the weather," Chiang Rai provincial Gov. Narongsak Osatanakorn said last week. "We can't risk having the flood back into the cave."
But three hours after Australian Dr Richard Harris and his dive buddy, Craig Challen, emerged from the water, the pumps holding back the flood water failed.
The Sydney Morning Herald reports that more than 100 rescue workers were forced to flee as the water began drastically rising.
This would have been disastrous if there was anyone still left inside.
The Thai soccer team and their assistant coach are currently in Chiang Rai hospital, and are in good mental and physical health.