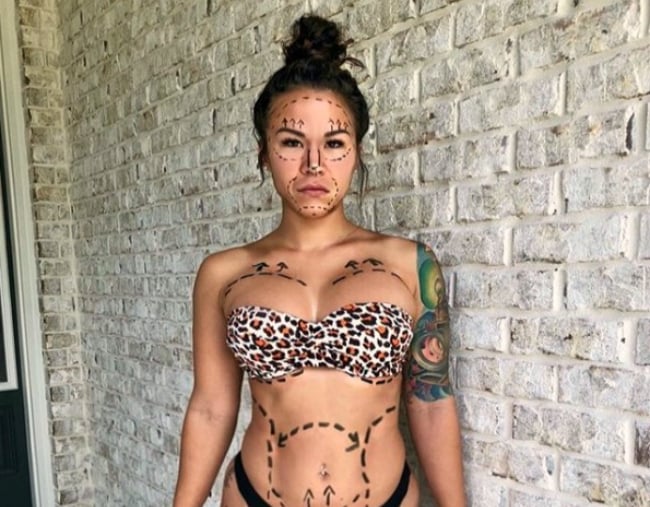 Sia Cooper never shies away from a conversation about body image and positivity.
The social media star is well-known for her Instagram profile boasting 1.2 million followers, and her mega-successful blog, Diary of a Fit Mommy.
She's used to having eyes on her – earlier this year Sia received backlash and even death threats for leaving comments on celebrity Insta photos (yeah, that's where you know her from) – and told Mamamia she knew a recent post outlining her plastic surgery regret would be controversial.
She shared her story alongside a powerful photo of her with plastic surgery style markings on her body.
"All of the markings represent what's not "perfect enough" for us to accept on our own bodies whether it's breasts, nose, body fat, or even tummies," she captioned the photo.
"I remember sitting in the surgeon's office seven years ago hopeful that bigger breasts would make me feel better about myself."
She wrote that she wishes she could go back and tell her 21-year-old self that she is perfect the way she is and didn't need a breast augmentation.
"I would scream at her that she's perfect. I would tell her that she does not need to be cut into like a slice of meat. I would tell her that it wasn't worth it. I would hug her. Cry with her. I would tell her that she was beautiful and didn't have to do this."