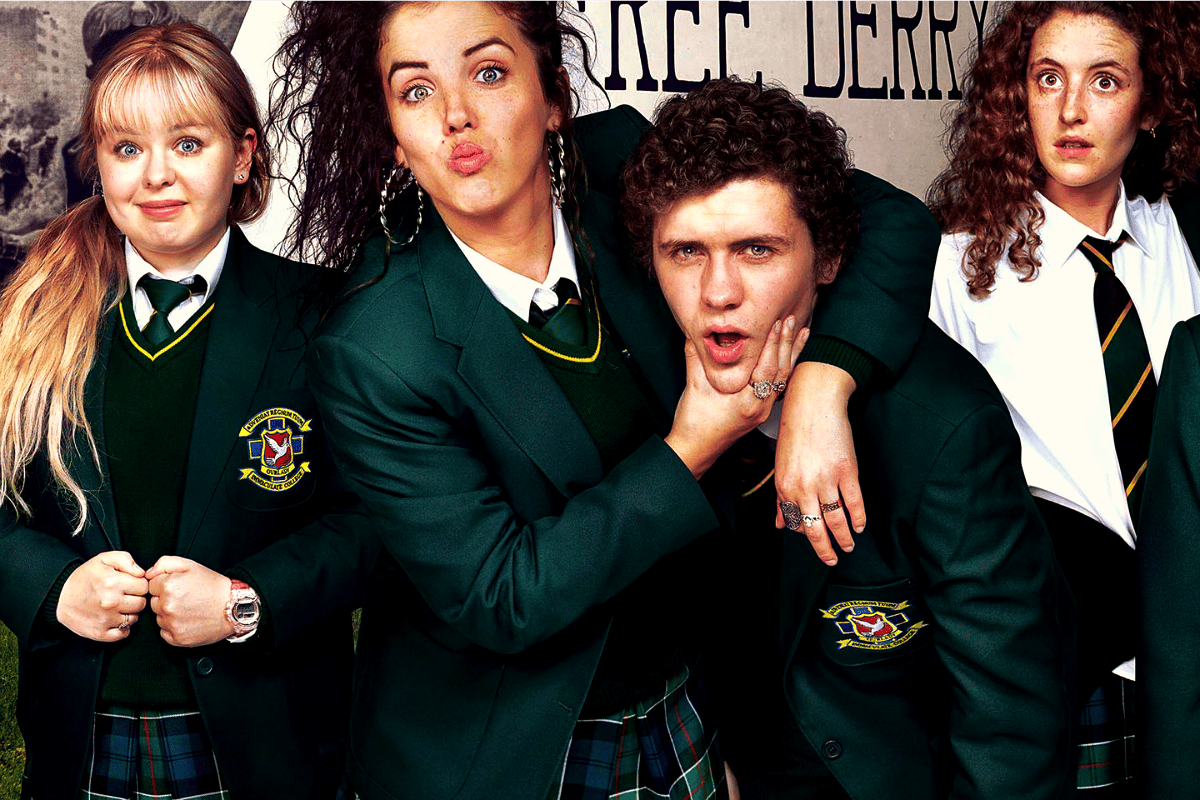 There are a few odd people in the world who believe you should cease watching teenage TV shows once you are no longer a teenager.
But this is very much incorrect information because while these TV shows may chronicle the lives of teenagers, the stories within them are often universal, well-told and just downright hilarious.
The latest teen show to hit a nerve and build a legion of devoted fans is Derry Girls on Netflix.
Derry Girls is a raucous teen series newly airing on Netflix in Australia and centres on four cheeky Northern Irish teenage girls who are growing up under English oppression in the 1990s.
The show follows the lives of Erin (Saoirse-Monica Jackson), her cousin Orla (Louisa Harland) and their friends Clare (Nicola Coughlan) and Michelle (Jamie-Lee O'Donnell). Also rounding out the teen cast is Michelle's English cousin James (Dylan Llewellyn), who she brings to school with her on the first day of the new school year.
This, of course, makes him the only male pupil the school has ever had, because he would be severely victimised in a boys' school due to his English accent. While his presence does lead to some entertaining storylines in the series, the show is still very much centered on the storylines of the teenage girls.
Derry Girls has been heavily likened to the British teen classic The Inbetweeners, but it's also safe to say that this six-episode sitcom has a flavour that is all its own.
For one, it's happily very heavy on the 90's nostalgia, thanks in part to the very impressive soundtrack, which includes the Cranberries and a whole lot of other hits. There are also '90s hairstyles and beauty looks aplenty that will be triggering for some of us, and a heavy reliance on the movie Pulp Fiction (the source behind the characters crushing on the term "motherfucker").
Derry Girls also manages to paint a very accurate portrait of exactly what it's like to be a student in an all-girls Catholic high school…meaning things get a little brutal and a whole lot savage.
One of the best elements of this show is that it allows its teen female characters to be gloriously foul-mouthed and at times even damn unlikable, all while ensuring they remain the heroines of their own stories. The fact that the series is set during the Troubles, a time when low-level guerrilla war was taking place in Northern Ireland between Irish nationalists and British loyalists, gives it an extra layer of depth and interest.
There are many moments within Derry Girls where the show truly cements its status as a 'dark comedy'. There's a scene where the gang land themselves in detention, and the nun who is supervising them dies while sitting in her chair, and many of the jokes are hooked off religion, sex and the suspected death of a beloved family pet.
The girls are also cruelly and hilariously intent on trolling James, giggly about the fact that his mother went to England to get an abortion and never came back.