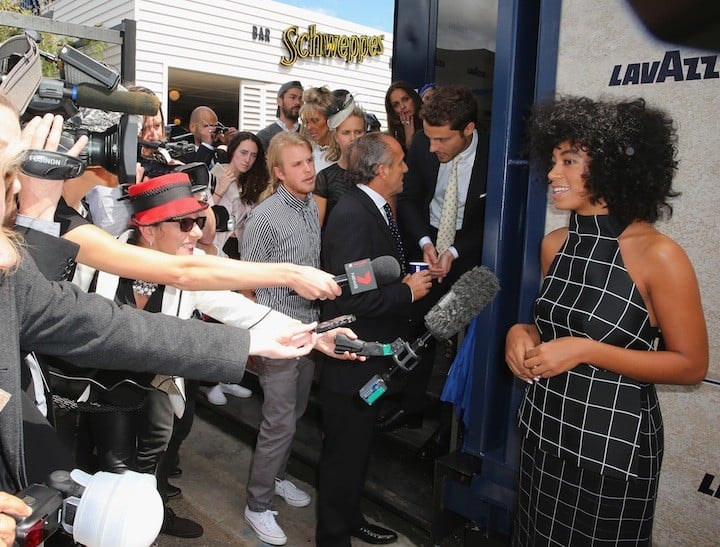 If you're heading to the races this year, take note.
I've always been a big fan of the races. A few years ago, I even fooled a whole radio station full of listeners into thinking that I sort of knew something about how to back a winner as I broadcast my tips each Saturday morning.
I didn't. I knew nothing, except that most of the horses I picked would somehow miraculously win.
So when I was invited as a guest of Tourism Victoria to attend Derby Day in Melbourne last year, I just assumed I would win all the money and fly back to Sydney a billionaire. Didn't quite happen like that. What did happen, however, was that I left Melbourne poor but armed with a handful of tips for anyone heading to the races this year.
Here are all of my embarrassing lessons learned.
1. Find a hat that won't blow off your head.
Melbourne is COLD. Much colder than Sydney, and much, much colder than my hometown of Brisbane. I arrived with a beautiful fascinator that I purchased from Myer only to spend most of the day (and the water taxi ride over there) holding onto it with one hand as wind ravaged my supposedly flawless ensemble. Fail.
2. Don't blow all your money on the first few races.
It was so hard not to put down bets for each race, but I held off until the last few – they're the only ones that matter anyway, right?
You'll be happier at the end of the day if you still have a few dollars to bet before bowing out and heading home, broke and sad.
3. Don't eat a big breakfast.
Arriving in the very exclusive, probably made out of gold, Rose Room at Flemington Racecourse was a dream. As was the constant stream of food available to us. I ate more in those few hours than any Christmas day binge. And every plate was finished off with a few glasses of champagne.
4. Walk through The Birdcage with your head down.
My favourite part of the day was leaving our exclusive area and heading to The Birdcage. If you know anything about the Aussie race season, this is where the celebrities hang out. This roughly translates to Neighbours stars, Bachelorettes and someone from The X Factor. But it's still pretty exciting. The special guest last year was Solange Knowles, a few months post-elevator incident, and I spotted her from across the D-floor.