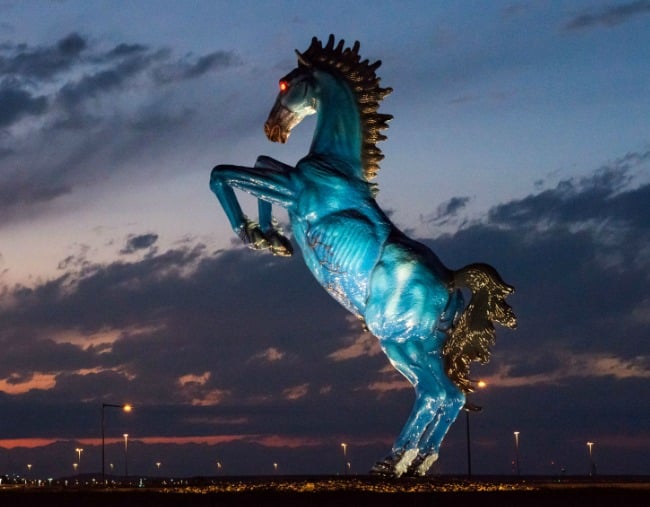 On the outskirts of Denver, Colorado, sits a 35,000 acre airport.
It's twice the size of Manhattan and nearly twice as large as any other airport in America.
Since it first opened in 1995, Denver International Airport, has been the focus of endless speculation.
Conspiracy theorists believe the airport hides a myriad of secrets that go right to the top of the US Government.
According to Buzzfeed, the airport opened 16 months behind schedule and it was $2 billion over budget.
Outside the airport sits a creepy blue statue of a horse titled Mustang. It's 32 feet tall and weighs over 4000 kilograms.
Its eyes glow red at night and also during the day. Some believe the horse is meant to represent the Fourth Horseman of the Apocalypse from the biblical book of Revelations.
Which basically represents… death.
To add to the general creepiness, Mustang killed its sculptor, Luis Jiménez. A piece of the statue fell on him while he was working on it and severed an artery in his leg.
This has led many to believe that the statue is cursed or possibly haunted by Jiménez's ghost.