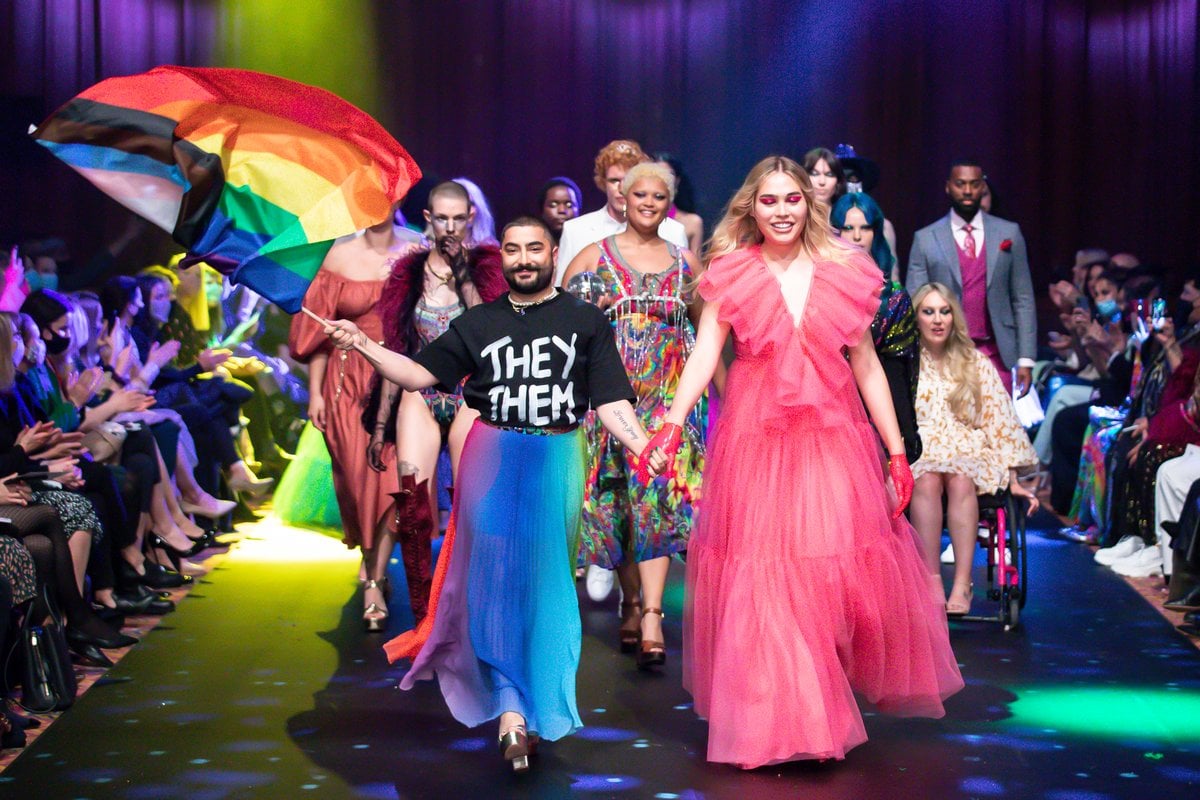 As a leading stylist, influencer and activist, Deni Todorovič only takes on projects they are passionate about.
The creator behind the popular Instagram account 'Style By Deni', whose pronouns are they/them, likes to say yes to opportunities that not only fill their cup, but have intention.
So when Melbourne Fashion Week approached them to style the opening night show and combine their two passions - fashion and activism for the LGBTQIA+ community - Deni jumped at the opportunity.
"This [was] literally my dream brief," the co-host of Mamamia's fashion podcast, What Are You Wearing?, said on this week's episode.
Listen to the episode here, where hosts Deni and Tamara share the behind-the-scenes secrets of Fashion Week. Post continues after audio.
The date of the show also lined up with Trans Awareness Week, and as a trans non-binary person, Deni saw this as the perfect moment to shine a light on trans visibility - they had already cast the trans model and content creator AJ Clementine to open and close the show.
"We [had] to do something. It would be weird not to," Deni said.
"I had this idea, it [was] going to be a Pride March moment," they explained. "Let's bring Mardi Gras to Melbourne and let's celebrate trans people in Australia."
And that's the vision Deni brought to life. 
The show featured seven Australian designers, with styles by Camilla opening the show and a colourful finale that was staged as a glittering celebration of pride.
Deni wore their pronouns on a t-shirt while holding AJ Clementine's hand and waving the pride flag in the other, leading a diverse line-up of models and people cast for the show down the catwalk.
It was a groundbreaking moment - for those walking the runway, for those watching from the sidelines, and most importantly, for the trans community.
The finale of the opening show at Melbourne Fashion Week. Image: Getty.