I've been having trouble sleeping lately and have finally found the answer in a bottle. A pillow spray bottle, that is.
Meet This Works Deep Sleep Pillow Spray, my new favourite bed fellow, sleep therapist and all round saviour.
Thanks to sickness, an overactive imagination, changing work hours and far too many hours wasted scrolling through my phone late at night, I've been really struggling to fall asleep before the early hours of the morning.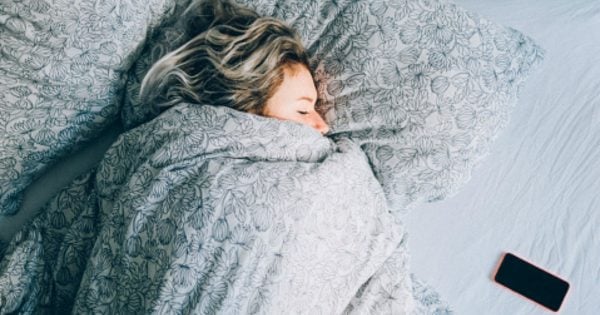 I then wake up tired, grumpy... and then when bed time comes, proceed to do said scrolling all night again. It's a vicious circle.
Not willing to take full responsibility myself, I decided to seek help. I'd read good things about the Deep Pillow Spray on social media, so desperate and sleep-deprived decided to give it a go.
Created by a former Health and Beauty Director of British VOGUE, it costs $37 but its magical powers have genuinely been priceless.
Promising to help you fall asleep faster, naturally and wake up refreshed, the spray is a potent mix of 100 per cent natural lavender, vetivert and wild chamomile. The combination is meant to relieve tension, settle nerves and calm the body and mind which then help you get a better sleep.
I was highly skeptical. If it was that simple, wouldn't we all be doing? However a few sprays on my pillow case was all it took to convince me. The smell is most overwhelmingly of lavender, which did instantly make me feel a little more relaxed. I settled in, picked up my book and within three pages could feel my eyes drooping. A few minutes later I was fast asleep, in an almost-sedative state not experienced since during storytime as a child.
I can't say I felt super-refreshed the next morning but it was definitely the quickest I'd fallen asleep in years.
I've been using it religiously since save for a a few days I spent interstate and I've definitely noticed a difference when I do use it. I think I may have overdosed the first night - two light sprays is more than enough - but it really does make a difference in creating a calming, relaxing space which brings sleep easier. It's been deeper, high-quality sleep too.
I'm not the only one to be convinced - the reviews on Mecca show plenty of other sceptics who've been converted.
"This product is great! I fall asleep so much quicker and it is extremely soothing/relaxing. I was very sceptical at first but it proved me wrong," Olivia wrote.
"Maybe it's mind over matter because it's hard to believe it works but after a while I realised it was working not just because I wanted it too! I am sleeping longer, and it's a really nice smell to fall asleep with as well. Love it!" added another.
If a pillow spray is not your thing, there's a whole assortment of products in the sleep range including bath soaks, shower gels and candles.
Whether it's work, stress, loud neighbours or small children keeping you up, this is a must-try. Like it says on the bottle, it really does work.
For more beauty hacks and reviews, you can follow Brittany Stewart on Facebook, Instagram and on the street. Except maybe don't do the last one.