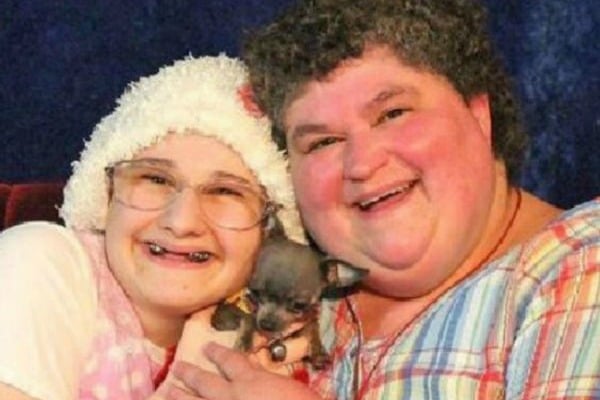 Warning: This post features details of abuse that could be triggering for some readers.
Netflix's new series The Politician explores Munchausen Syndrome by Proxy, where an adult is believed to have poisoned a child to make them unwell, and/or fabricated their symptoms so the adult can receive public attention.
But the mental health condition is not something that only happens in a fictional setting.
The syndrome, now known as 'factitious disorder imposed on another' (FDIA), is all too real, and although rare, the most notorious cases reported have seen gross child neglect and abuse.
We remember the most high-profile cases.
Gypsy Rose Blanchard.
Gypsy Rose Blanchard, 27, orchestrated the murder of her mother Dee Dee in 2015, and is currently serving a 10-year sentence in a Missouri, US prison.
Her motive was revenge, for the years of medical child abuse her mother had inflicted on her. Gypsy never knew how old she was, was confined to a wheelchair, and had her head shaved to give the impression of illness.
Her mother also told her she was terminally ill, and that she had everything from leukaemia to muscular dystrophy and developmental issues that meant she had the mental capacity of a seven-year-old.
None of what Dee Dee claimed was true. Instead, she was the one suffering from an illness – FDIA.
Watch the trailer for "The Act," based on the true story of Gypsy Rose. Post continues after video.
Dee Dee managed to convince doctors to prescribe unnecessary medications and even deliver dubious diagnoses.
As a result of public sympathy, the family received a home built by Habitat by Humanity, and trips to Disney World paid for by charities.
It wasn't until Gypsy was a teenager that she started questioning her age, why she wasn't allowed to have friends and her health issues. Finally, a boy she met online would give her the freedom she so desperately wanted; he would kill Dee Dee for her.
Nicholas Godejohn fatally stabbed Dee Dee as she slept, using a stolen knife and gloves Gypsy had taken from a local Walmart. During the murder, Gypsy hid in the bathroom.
For their crime, Gypsy was sentenced 10 years in prison, and Nicholas received life imprisonment without parole.