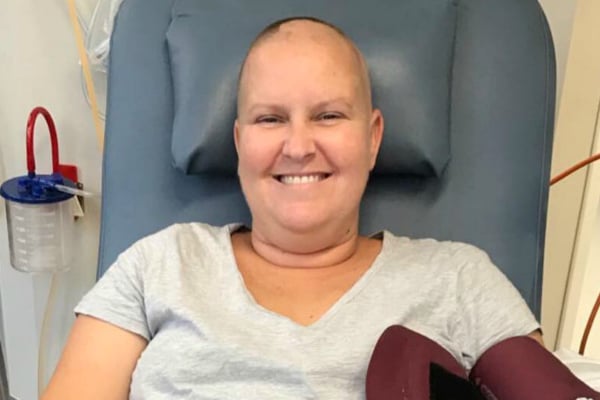 "We met up at a café local to me, it was very casual, a bit like a first date; just the two of us. We had coffee and just chatted. She asked me my initial thoughts about the process of death and how I imagined the end."
This was the day Lauren met her death doula.
Lauren is 39 years old, she has two young daughters under the age of five and has terminal triple-negative breast cancer.
Lauren was diagnosed with the disease in late 2017 and has been frank about her prognosis and the eventual outcome from the beginning. For her, her priority is being as prepared and organised as she can be for herself, her husband Josh and her two children, as well as utilising all the time she has remaining.
What on earth is a death cafe? The new trend that takes brunch to a philosophical level. Post continues below.
Some of that preparation means seeking the help of professionals who are experts in different areas, including death.
"I started Googling things related to my condition in early 2018, then things start infiltrating my Facebook feed, including articles about death and one day one came up about a doula, a death doula," Lauren tells Mamamia.
"After lots of admissions to hospital this year that were unexpected, I realised that sometimes it is hard to be prepared. You need to make sure your medication is always ready to go, people are informed and also managed," she says
Despite having what she describes as a 'big, loving family' who all want to help and visit, Lauren says that they often don't know how to and don't know what to do.
"It is hard for Josh and I to manage everyone and the kids, at such a stressful time. Death doulas do this for you when the time is near," she says.
A death doula or an end of life doula is not a new concept. According to the Australian Doula College, doulas have been a part of many cultures for thousands of years.  "Doulas have supported the practice of people staying in their homes to die, looked after by family and [their] community," reads their website.