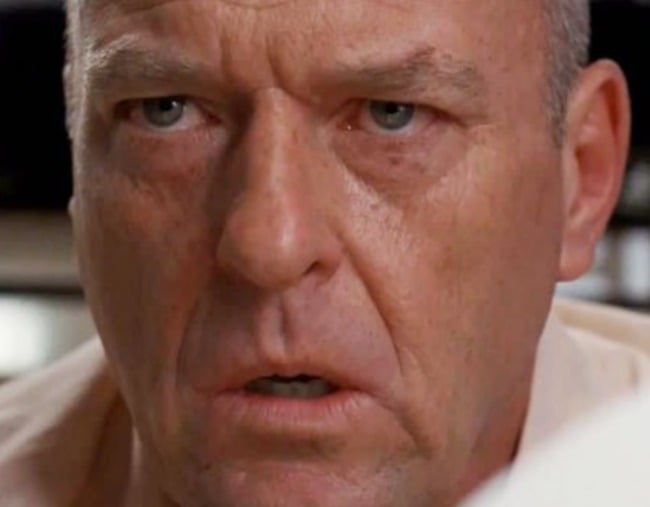 Oh boy oh boy oh boy.
It's Friday and we are delighted to present to you perhaps the greatest Twitter blooper we have ever seen.
You'll probably recognise Dean Norris. This guy is best known for playing the surly character of Hank on Breaking Bad.
He also has about 520,000 followers on Twitter. And not one of them really knew quite what to say when, out of nowhere, he fired off two very simple but also very surprising words: "sex gifs".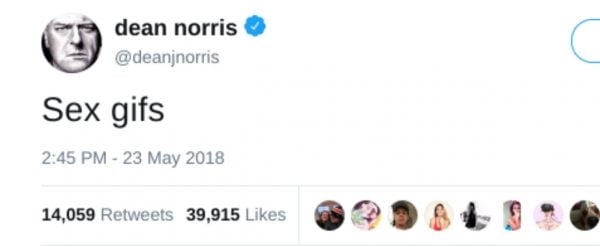 So insightful.
So eloquent.
So... oh lordy where do I look?
Of course, at first the internet reacted a little like this...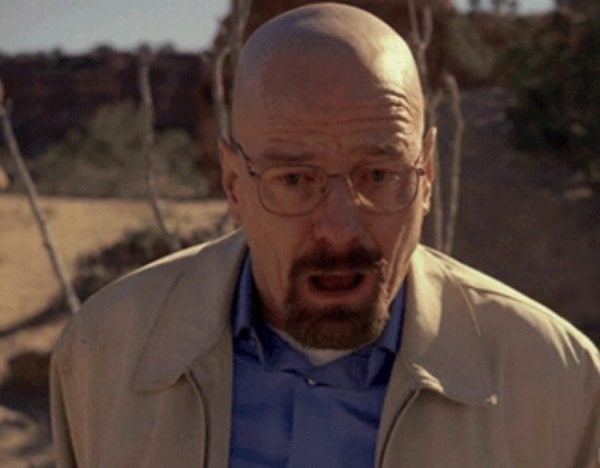 The theory is that Dean was on the hunt for some sexy images but confused the text box where you post a tweet for the search bar. (We've all been there. Except usually the gaffe involves accidentally posting the name of the ex you were trying to stalk.)
A few helpful souls who know where to locate these "sex gifs" tried to, uh, point Dean in the right direction.
But mostly, the internet is having a field day.
— Aku The Shapshifter (@ItsHarryHew) May 23, 2018
Dean Norris tweeting "sex gifs" has been the best birthday present I could have asked for

— OPTIMISM PRIME (@entendo64) May 23, 2018
— ???? Lirum (@RachelMcmuffin) May 23, 2018
— GIPHY (@GIPHY) May 23, 2018
Returned to work today after a week off and the only thing that made it bearable was thinking about that Dean Norris tweet.

— The Serious Adults (@SeriousAdults) May 24, 2018
Twelve hours and he hasn't tweeted since. Those must be some amazing sex gifs. https://t.co/t2SuTshsto

— Chris Hewitt (@ChrisHewitt) May 23, 2018
Our world is so constantly and continuously distressing that we've barely had a moment to appreciate Dean Norris of Breaking Bad inexplicably tweeting "sex gifs" in the middle of the night for reasons entirely unknown.

— Will Ashton (@thewillofash) May 24, 2018
Just for clarity, if you ever see me tweet "sex gifs" at some point in the future, it's because I'm doing an obscure reference joke about Dean Norris. Nothing more.

— Tim Sampson (@tsampson) May 24, 2018
— ✨ Jen ✨ (@AZRobbins0) May 24, 2018
The most peculiar part is, almost 24 hours later, the tweet is still up.
Is there a deeper (mind the pun) meaning to this we are all missing? Was Dean testing the power of virality? Did he get kidnapped by porn stars? Or was he really just having a lonely Thursday night?
I hope dean Norris never tweets again. Just leave that tweet forever.

— Ichiro Suzuki Stan (@Hobotakes) May 24, 2018