Sitting on the train this morning on my way to work I wanted to cry then suddenly I had a warm smile.
This starts to happen when you join the club. The Dead Dads Club. It's a club you never want to join but you never get to leave. You get welcomed by someone who is already a member, who knows your pain and can quietly acknowledge to you that there will always be a dad sized hole in your life. Father's Day always triggers a reminder of your membership.
The point where I wanted to cry this morning was seeing a friend on Facebook telling the world that her Dad had died. She is only 25. The post was accompanied with gorgeous photos of her and her Dad when she was little and of her Dad doing things he loved. The warm smile came soon after when a well-dressed woman standing on the train near my seat picked up the phone and called her Dad. "Hi Dad, it's me. Are you doing anything on Sunday? It's Father's Day, yes. Shall we come around for lunch? I'll bring food. If there is anyone else you would like to come too just let me know and I'll make enough for everyone."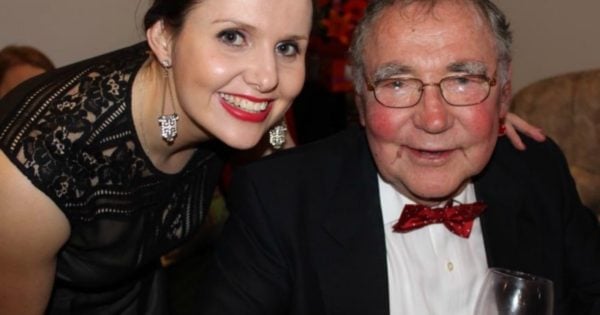 My dad at my engagement party, just before he died. Image: supplied.
I was welcomed to the Dead Dads Club by my friend Ash -  her dad died when we were in high school. She howled when she was told, the echoes of her pain reverberating down long, empty corridors of lockers as students sat in class. None of us knew what do other than hug her and tell her she would be okay. She knew what to do when she welcomed me to the club, she said she knew my pain and that it's okay to feel it.