After being locked up for years in a kind of halfway house between the world and total oblivion, what is it like to step foot back into the world again?
Does the rush of happiness and relief descend into immediate terror about the future? Or does the happiness plateau as realism sets in?
Former inmates have shared their experiences on post-prison life, detailing the euphoric highs and deep lows that come with re-acquainting with society.
When a sandwich is all you need
"Humbling and glorious," one former prisoner described the experience on Reddit.
"I got put on a Greyhound bus with other prisoners. Some had been locked up for decades. One guy saw a Segway and flipped the f*ck out, he couldn't believe it.
"I ate a veggie sandwich from Subway that day. It tasted like freedom."
What's an iPhone?
When one man found himself sitting on a seat outside prison in the moments after being released, an old woman came and sat with him.
"The old lady caught me daydreaming and interrupted by saying, 'Would you like to call somebody?'
"The thought had never crossed my mind a few minutes earlier when she'd mentioned me not having a phone and showing me hers. I wasn't worried about Pat. I knew he'd get there soon enough, and if I only had the chance to make one phone call, I'd preferred to call my mother anyway. 'Yes, please. I live in Dallas though. Is that going to be long distance?'
"'Oh, honey, you've been gone a while, huh? Long distance is free on these things.' And with a friendly cackle, she took out her phone again and asked, 'Who do you wanna call?'
"'My mother, if that's okay.'"
When handing him an iPhone, she released he didn't know how to use it. Sure, he had seen them on TV and in magazines. But he'd never held one, and certainly didn't know how to operate one.
"Before I had gone to jail, phones still had buttons. But this thing was little more than a rectangular piece of glass. Almost immediately, she realised her mistake and held out her hand to take the phone back. 'Here, I'll dial it for you. What's her number?'
"For the first time in well over three years, I was able to talk to my mother without being preempted every five minutes by a recording reminding both of us that this call has been placed from a correctional institution. When my mum answered the phone, I was all smiles.
"Hey, mum!
"Hey, son!
"Just another reminder that I was free."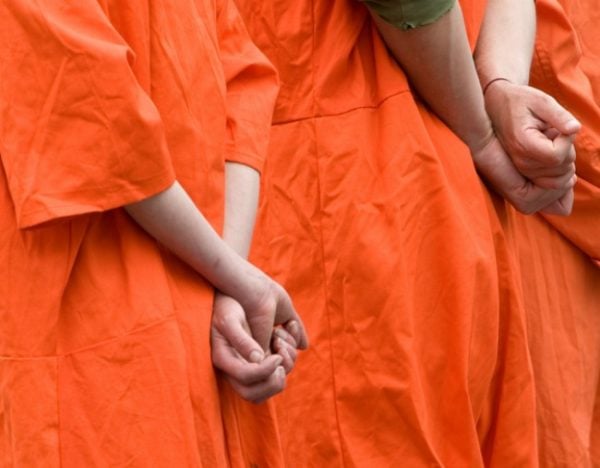 When it's much harder than you anticipate
"I was on edge the whole time. I went to a restaurant and to a bar with a friend on my first day out," one former prisoner wrote on Reddit.
"At the restaurant I got so anxious literally felt sick and had to step outside. At the supermarket I walked in, [saw] all the people and immediately told my mum, 'Nope, no thanks. I'll wait outside'. At the bar we ended up sitting by the door and everytime someone walked in, my head would jerk to see who it was. After a few brews my nerves chilled."
Sometimes, prison is all you know
"Mostly what happens is that either someone picks you up, or the state will give you a bus ticket. They also give you new street clothes and $25," Lynda wrote on Quora about her release.
"The tough part is the readjustment to freedom. Forming or re-establishing relationships is difficult after leaving an institution where you could never trust anyone.
"Significant time spent in prison can permanently damage your ability to form close ties to others. That's the biggest tragedy of incarceration, since a meaningful life cries out for deep, human connection."
She says after nearly two decades in prison - entering at just 16 - home felt like "an imaginary place".
"When that day came, I felt like I wasn't as excited as I should be. I knew how I was supposed to feel. I just couldn't make myself feel that way. I grew up in prison; it's what I knew; it's where my friends were. I had stopped remembering what I was supposed to miss.
"They don't release people like you see in prison movies. It took around three hours for the parole van to finally pull out the gates of San Quentin. When I saw my family, I remembered. I'm sure I cried when I saw my mum and grandma crying. Everyone was there, my brothers, girlfriend, cousins, and friends."
Listen: What's life like inside a women's prison? We found out. (Post continues...)
Freedom = water
"My first stop was Ocean Beach in San Francisco. It was the one thing I knew would remind me that the world was bigger than a quarter-mile prison track. When I put my feet in the ocean I knew I was home. My eyes strained to see the horizon. My brain was in sensory overload. It was hot; I was soaked; it was perfect," Felix wrote on Quora.
"On the morning of August 13, 2012, I knew that I was scheduled to walk out of prison. I'd been incarcerated for the past 9,135 days, since August 11, 1987. The thought of being released seemed surreal. For decades I'd thought about being released, and I'd planned for being released. But on that Monday morning, I didn't quite know how to process the reality that my day had come.
"It was the day of my release, and I walked alongside the guard toward the area where others would process me out of the prison. I smiled, knowing that for the first time in a decade of marriage, I was going to be alone with my wife."
Within 30 minutes, he was released into his wife's arms.
"We embraced in front of the guards and we kissed, knowing that they could not intrude. Then we walked outside and drove away. Sitting in a car with her for the first time was wonderful, but it was also wonderful to hold my iPhone for the first time. She showed me how to use it, then she fed me pizza from a real pizzeria.
"More than five months have passed since that magical day of my release, and I'm still getting used to the liberty."