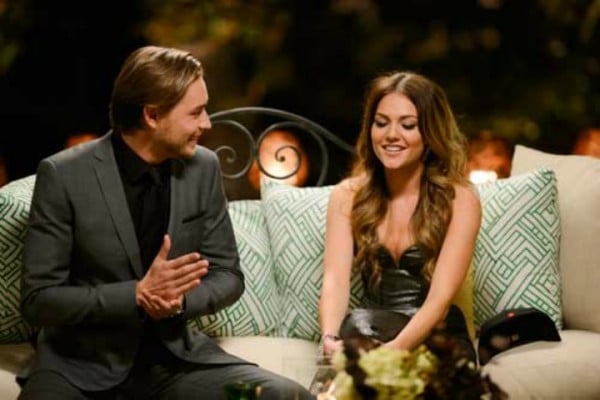 It must have been hard for the men in this year's The Bachelorette series to watch from the comfort of their own homes as their hopes/dreams/love lives were dashed on national television. We now know that Sasha and Sam have been gallivanting around Melbourne (her original home turf) in the last week enjoying the fact they can finally go public.
But Sasha hasn't forgotten the other 13 men he shared a house with for 3 months. So they organised a little bit of a reunion. A bromantic affair, if you will.
David Billsborrow (dashing smile, warm blue eyes, plumber) took a picture of the group out at a restaurant - featuring all your favourites: Will the musician/barista, Michael sort-of-a-Socceroo, Richie star-favourite, Kayne sort-of-rapper, English Alex, and Davey can't-take-anything-seriously Lloyd. It was probably a cracker of a night. The photo was captioned "where are you Kieren Nicholson?" after that guy who was given Pomeranians on the show during the photoshoot. A grown man was handed Pomies.
Except one more famous face (literally) wasn't there. David, the international model and first man on Earth who pictured Sam "drowning" to help him jump off a cliff. An all-round hero kind of guy.
And he wasn't too impressed about it.
In the comment section of Instagram, David wrote:
I know what you're thinking. D-bag. But it gets better.
He followed it up with: "'Oh yeah; that was the night I was at the Victoria Secret angels party... Sorry boys!'
A true class clown this one. One commenter replied "#noinvite4u" which is obviously appropriate and obvious to which David replied "Thank you for the kind words; it was a joke..."