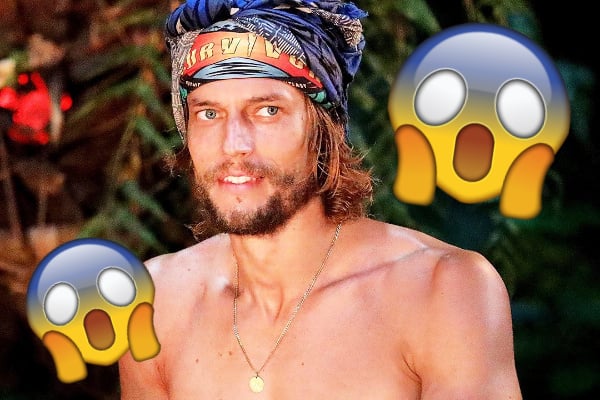 When I sat down to speak to Australian Survivor winner Dave Genat the morning after he was crowned 2020's Sole Survivor (over the phone because, social distancing), I didn't expect the conversation to go in the direction of… bum pus.
But here we are.
On Monday night, the 39-year-old international model was voted the winner of Australian Survivor: All Stars, beating Melbourne-based barrister Sharn Coombes and former AFLW star Moana Hope to take home the $500,000 cash prize.
WATCH: We got all the villain goss from Survivor's Dave when he came into the Mamamia office last year. Post continues after video.
Dave outwitted, outplayed and outlasted 23 other Survivor Australia contestants, existing on nothing but rice, beans and hidden immunity idols for 50 days. When he played in 2019 on Australian Survivor: Champions vs. Contenders, Dave only made it to day 34. But as I found out, those extra 16 days do a lot of strange things to your body.
"Somehow I got out the Champions vs. Contenders season unscathed. I lost 11.6kg the first time but for the most part, I was healthy. This time I lost 14.6kg… it was extreme," Dave told Mamamia.
"My first visit to the doctor when I got out of the game, when they were doing the physical check-up… if you thought I made some great faces on the show, you should've seen my doctor's face."
While Dave said pretty much "nothing is disgusting" by the end of Survivor, he played through a bunch of injuries and illnesses throughout the season, on top of all the usual Survivor difficulties like not being able to shower, brush your teeth, eat regular food and use regular toilet facilities.
"Seriously, nothing is disgusting by the end. The toilet paper shortage in Australia right now…. a little wash in the ocean does the job. Also, you're not consuming sugar anymore. There's nothing going in your body so you get into this pure state," he said.
"Yes, after challenges, people got a bit stinky and there were definitely some people [on the island] who had their own brand of scent, but for the most part, the smell of the campfire disguised everything. The most disgusting thing for me, and this might be too much information, was when a spider bite on my left butt cheek turned into an abscess."