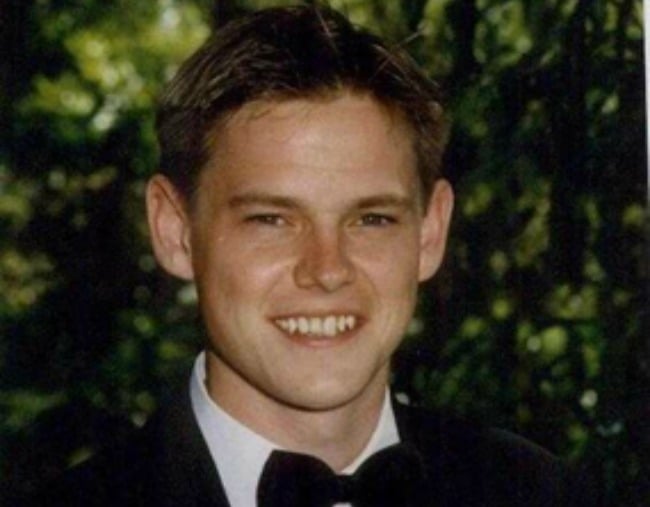 On August 10, 2002, 28-year-old David Breckenridge was wearing blue jeans, black work boots, a long-sleeved shirt and a dark coloured windproof jacket. The medical student had just finished a double shift as a city barman and, carrying a single satchel bag and a six pack of beer in his hands, was ready to head back to his best friend Phillip Noyce's place.
As massive rugby fans, the friends – who were mates from their days at Barker College – had planned to watch the Tri Nations match between South Africa and New Zealand at Phillip's place in St Leonard's.
At 11.45pm, CCTV footage shows Breckenridge entering the St Leonard's tavern to pick up a six-pack of beer – a gift, it would later emerge, from his boss. The day before, Breckenridge had celebrated his 28th birthday.
At 11.52, he made a phone call from a nearby phone box.
"He said, 'Noycey it's me, I'm coming over. I've picked up a sixpack and I'll be there soon,'" Phillip Noyce would later tell The Daily Telegraph.
Between 11.52pm and 12am – in the space of just eight minutes – David Breckenridge was stabbed in a frenzied attack in a St Leonard's laneway, his body found slumped on the ground. Some 16 years later, his killer has never been found.
The murder of David Breckenridge is now the subject of a five-part podcast by The Daily Telegraph called Eight Minutes.
David Breckenridge was one of three children, the third child to Stephen and Karen. He had an older brother, Keiran, and an older sister, Kirsty. The family lived together in Sydney's leafy north shore and, the family have told The Daily Telegraph, he was someone who rarely looked for trouble. He was "intelligent" and "charismatic", they told the paper in the aftermath of his death, and not only was he seldom in trouble, but he actively avoided it.
A 2005 inquest of the murder delivered an open finding, with coroner John Aberneth criticising the amount of police resources devoted to homicide investigations, urging the Police Commissioner to increase the number of officers involved in such cases.
Two nights before Breckenridge was murdered, he spent the night with a 19-year-old woman named Hannah Orlik. At the time, Orlik was dating a man named Paul Stapleton and Stapleton, according to The Daily Telegraph, was "furious about it".
Why are we so obsessed with true crime podcasts? Post continues after audio.