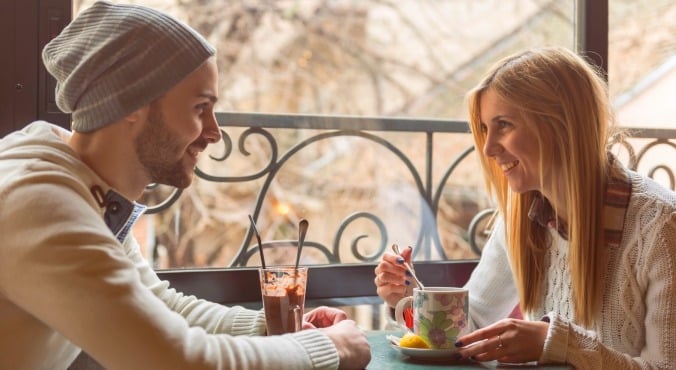 Image: iStock.
Dear Readers,
Happy 2016! This week I will provide you all with the single best piece of advice I have received during my many dating adventures. Adventures? Catastrophes? Really either word could work. Instead of offering up that I'm not qualified to provide actual advice, I will say that my friends (while also not qualified) have never lead me down a wrong path.
I trust them and hope you will too!
If there's anything that you should know about me it's that when I set out to date, I set out to date. I went through a time of rapid-fire first dates. It wouldn't be unusual if I had three lined up in a week. I didn't entirely know what I was looking for in a person. (Here's some advice for dating after forty. Post continues after video.)
I wasn't sure what qualities I liked. Should they have a good personality? Did I have a physical "type"? It was a learning curve for sure. These weren't even dates that sort of went wrong. They were the kind of dates where I questioned if I should even be in control of deciding what was in my best interest.
These were dates where I found out the person I was out to dinner with had a decapitated rabbit tattoo and another of a drunk guy – no meaning behind either.
Another date got up in the middle of a generally quiet bar while sober to show me a vision quest rain dance he performed in the woods. Could I have had second dates? During a lot of these instances, yes. Would it have been worth my time or their's? Probably not.
Then there were the dates that maybe there was a date two or three. Other problems revealed themselves which all stemmed from the same place. One individual suggested that I dress sexier and less like however I was dressing (probably like a hippie).
This wasn't unusual as a short relationship in my early twenties required me to run each outfit I intended to wear by him if I were to be in a social situation where I was to interact with his friends. Another person begged me not to dye the ends of my hair purple.
I still did because I had only known this person for three weeks, and I could sense resentment following. (Post continues after gallery.)
Our favourite on screen couples.
This is the point in the story where I called up my best friend crying on the phone. "When everything seems wrong and you're the only person in common with all of these situations, it's you right?" I was certain I was the problem causing all of my dating woes.
In a way, I definitely was. He highlighted what my problem was. I wasn't committing to being myself.
I could continue to be a chameleon and shape-shift myself into whatever version of Sami they were hoping for and make myself miserable in the process. The only other option was that I could just be myself.