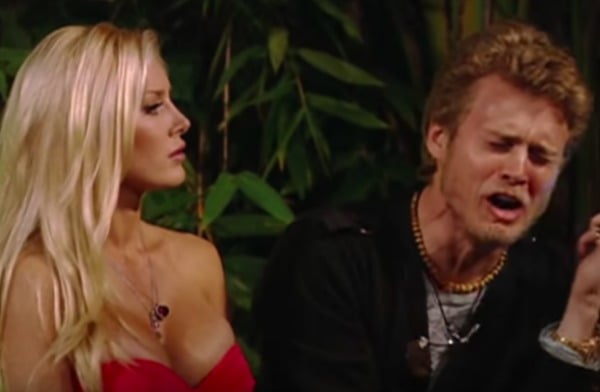 Now let's get one thing straight.
When I say I've dated a Spencer, I don't mean a crystal selling, scream at his sister, reality TV crazy man who pretended to elope and created a fake sex tape rumour.
It's a tad more subtle than that.
I'm talking about the person who always makes you feel embarrassed about what the outside world is thinking about your relationship.
We're all talking The Hills again, because New Beginnings is here. Post continues after video.
It's that relationship you feel like you constantly have to justify to anyone and everyone.
It's that person who your friends don't like – and you know that – so you try and just not talk about them as much in their company.
It's that man who's been an absolute d*ck to you, and yet you love the absolute hell out of.
You might find yourself thinking, "I've come this far, I can't just give up now?" Even if there's a niggle in the back of your head that is screaming at you: This. Just. Isn't. Right.
To be fair, Spencer Pratt is a pretty unique larger-than-life example to consider in this scenario.
And in actual fact, his relationship with Heidi has worked out; they've been together 11 years and share a child.
 

View this post on Instagram