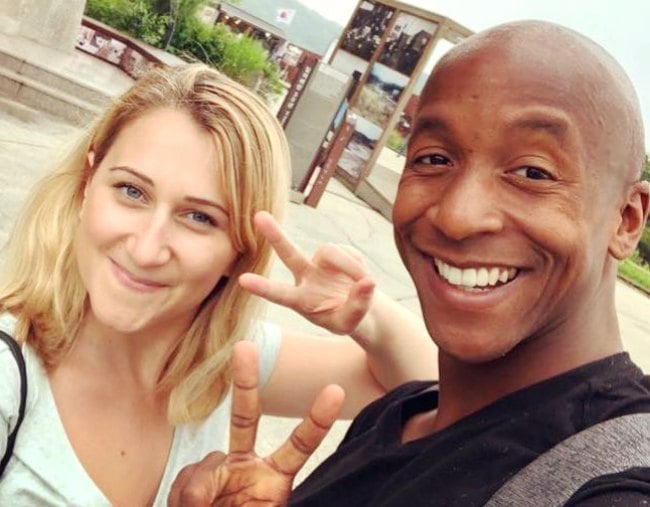 Crammed into various bars, bookstores and theatres around the world, Rachman Blake and Elena Gabrielle have been privy to some truly horrific dating stories.
As the hosts of Story Party, the duo tour the world sharing their dating mishaps and adventures and invite audience members to do the same.
Stories like a Canadian woman who went home with a guy, only to have him open up a spreadsheet which ranked every girl he's ever slept with (she was told she was in his top five). Or the fact that it doesn't matter if you live in Beijing, Tel Aviv or Barcelona, dick pics are universal… just so you know.
But when it comes to the origins of Story Party, the tale is less funny. Leaving his corporate job in San Francisco four years ago, Rachman had just broken up with his then-girlfriend. At the time they were still living together but both in an open relationship. Rent in the city was expensive, he explained in he show.
It wasn't until he left to go travelling that he discovered that his passion for performance and stand up comedy could conveniently double as both a livelihood and as free therapy.
"I realised that a lot of other people also had some messed up dating stories and we started the show as a way for other people to vent about their messed up dating lives and in the end people felt better," he says.
"You realise my dating life is kinda of crazy, but other people share this ridiculous episode with me. And then other people feel more connected with the folks around them because they have this shared experience.
"That's one of the true pleasures of doing the show."
Ever been confused as to what people really mean when they're on a date? Well we've translated it for you.
Elena then joined in 2016.
Rachman met the Australian-born NIDA graduate Elena while travelling in Berlin and what started out as coffee catch ups while sharing dating disasters turned into Story Party. It was one-part comedy show, one-part group therapy and this year alone they've done over 160 shows in 33 countries, laughing and learning along the way.
Gathering an anthropological study of worldwide dating habits, Elena and Rachman say when it comes to love, some trends defy geographical boundaries.
"I guess most of the stuff about dating is universal. I think the most interesting thing for me is that sometimes a stereotype of a country can be seen in the dating as well," says Elena, pointing out that women resent the affliction of dick pics right around the world.
Drawing from their audience participation stories, they found that Canadians are super nice (at times to their detriment), Germans are very direct people (especially if Tinder is anything to go by), micro-penises are a common dating woe in East Asian countries and there were quite a few stories involving guys wearing ankle monitors during their Adelaide show last year… apologies.
With hundred of cringey and laugh-cry worthy stories under their belt, Rachman and Elena say Story Party has been an educational experience.
Elena, who is still single, says that if anything, this international study in dating habits has taught her that there's no right way to go about dating.
"Everybody asks me after the show if dating is better in a particular place. They ask me for dating advice and it's just like I don't know, there's no answer to that," she says.
"The true thing is that a lot of people will blame other people for what they need to do a lot more. Like internal soul searching. That age old cliche of really being happy with yourself being you're seeking out validation in someone else."
Rachman agrees.
"When people do take responsibility of their dating lives they tend to have the best stories because they realise their own fault at creating the stories. They're acknowledging it, they're owning it and they're sharing it in a way that's open and honest," he says.
"In the end you are to blame for your own dating life and if you just take control over it, and take ownership of it, you can be happy in the end, and also have a good story."
And if you've just suffered a broken heart, that's okay because laughing will help too.
"At the end of every show we have the same feeling," says Rachman.
"We do the show so you can laugh about your stories, and laughing helps you get beyond them so you can get out there and either be happy by yourself or go about the dating process again.
"Laugh about the things that go wrong and enjoy the things that go well."
For more information about Story Party, you can visit their website and keep up to date with their stories on the Story Party Facebook and Instagram. 
What's your most cringey, funniest and messed up dating story? Group therapy is open in the comments!