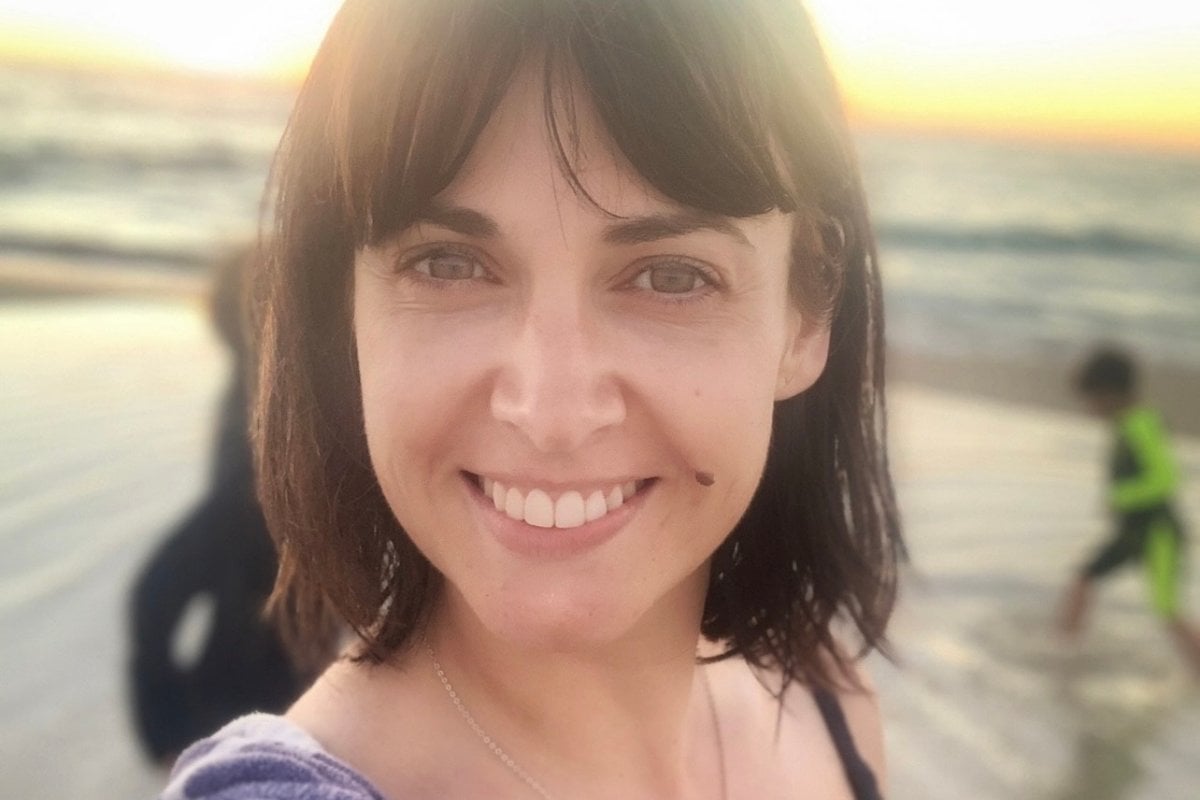 I was sitting in the backyard by myself one sunny Sunday afternoon and said to myself, "Screw it! I'm just going to do it!"
I said I wouldn't sign up to a dating app. I didn't like the idea of being so disposable. That someone judges you based on your appearance and if you're lucky, a short description of yourself. Then within a few seconds you can be swiped past, just like that. But this particular Sunday afternoon I was feeling brave. I felt like I was ready to open myself up to possibilities.
Watch: There are common mindsets women have towards dating when coming out of a toxic relationship or divorce. Post continues after video.
It took me hours to choose a good collection of pictures that portrayed different versions of me. Fun me, laidback me, everyday me. Then to write a cute little snapshot of who I was. 
'Fun-loving mum of three kids. Going out for cocktails with friends or reading a book in the sun, equally bring me joy.'
Nailed it.
Then I just had to figure out how to use the app and swipe the right way for the right people, which was nerve-wracking in itself! After a few wrong swipes, I got the hang of it and started matching with a few guys and I attempted to chat. I even Googled how to start a conversation in a fun and flirty way! But boy it's BRUTAL out there, people! 
Just because you matched with someone doesn't necessarily mean they WANT to chat to you, which kinda threw me. Isn't that the whole point of being on a dating app? I was confused. But I persisted. After a while, I started chatting to a few different people and one particular guy I was really drawn to. He looked kind and handsome plus he had taken the time to write a good bio (a lot don't even bother).
So, we started chatting. The conversation was easy. He was funny and cheeky and wasn't afraid to ask the hard questions. And I liked that. A few weeks after chatting, we arranged to meet, and I was so relieved that the connection transferred from online to face-to-face. In my eyes, it was the perfect date. He was attentive, that was the thing that stood out the most. He gave me his undivided attention and wasn't distracted by anything or anyone. The conversation flowed, and I felt calm with him. And for someone who has ADHD and can feel chaotic, often, it was a really nice feeling to have with someone.
I liked him. The problem with liking someone is that you expose yourself. You become vulnerable. And for me, opening myself up to someone new put me in this fight-or-flight mode, where I became hypervigilant to any potential red flags.
I was 22 the last time I was single. And 17 years later, I'm a whole other person with a lot of baggage!
After only a couple of dates with him, I found myself looking for faults and incompatibilities in the little things. The things he would say and do triggered me and I was comparing him to my ex-husband. I was overthinking ALL of it. I was terrified I would miss the red flags, that I would repeat the same patterns. I was also looking for validation really early on. So instead of just getting to know him and having fun, I was all in my head and I realised I had to "unlearn" a whole heap of habits that I had adopted being in a long-term relationship. A long-term relationship that I hadn't been happy in.